Home » Social
Social
Upcoming Events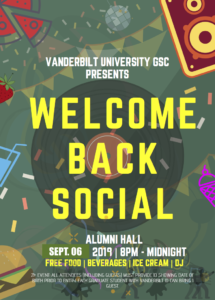 Join the GSC for the annual Welcome Back Social, September 6 from 8pm to midnight in Alumni Hall. Free food, drinks, games, and a DJ. All graduate students 21+ are welcome!
Volunteer Incentives
Interested in volunteering at GSC events?
This year the GSC is rolling out a volunteer incentives program. Essentially, volunteering will allow you to get some sweet GSC swag as follows:
Volunteer for 1 event – you are a closer to be able to apply for a GSC travel grant.
Volunteer for 3 events (such as the Welcome Back Social, and 2 tailgates) – you get a sweet GSC coffee mug.
Volunteer for 5 events (such as the Welcome Back Social, 3 tailgates, and the December Social) – you get an invitation to the GSC volunteer appreciation dinner.
We will have a point system such that you can accumulate points for each event you volunteer at, and cash in as detailed above. We are excited to have you on our team!
---