Home » Schedule of Events
Schedule of Events
All in-person events are cancelled for the rest of the semester.  But we have multiple virtual events lined up! Stay safe and healthy everyone! 
SOCIAL EVENTS 2020- 2021
Geeks Who Drink is hosting an international cultures themed virtual trivia just for the GSC (think food, geography, music, etc.)! The event will take place online via Twitch on Thursday, November 19 at 7:00 PM CST. Sign up as an individual or as a team (of 5 or 6 people) at bit.ly/gsctrivia . Those who sign up individually or as a small group will be placed on a team. PRIZES will be given to the winning team! Sign up by midnight on Friday, November 13 to play! You can direct any questions to gsc_social@vanderbilt.edu.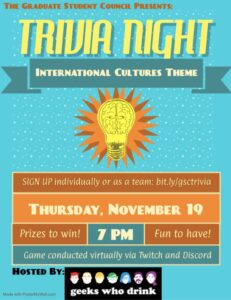 Join the GSC for a virtual Halloween party! Event will take place on Oct 28, 7:00-9:00 pm via gather town with games and great PRIZES (like Airpods, smart watches etc.). Goodie bags will be available for pick up before the event with some sweet treats to enjoy while you socialize. Sign up for more information: http://bit.ly/gschalloween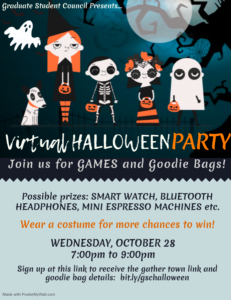 RECENT SOCIAL EVENTS
Beyond Borders Social: Celebrating the International Mother Language Day
• Where: Alumni Hall
• When: February 20, 2020 at 7:00PM – 11:30PM
---