PURPOSE
The purpose of FEAST is to bring together faculty and students with hope that students will use this opportunity to establish lasting relationships with faculty members they might not have developed in the classroom. Breaking the ice over lunch might allow relationships to blossom into a great relationship.
ABOUT FEAST
FEAST meals can be used at the following venues.
The Commons

E. Bronson Ingram

Rand Dining Center

Kissam Center

Local Java

The Pub

2301 Cafe
Each student is eligible to receive one FEAST meal per semester. This free meal will cover both the meal of a student and that of the professor whom the student shall invite.  The FEAST program does not cover alcohol purchases.
The last day to submit a host a faculty member for a FEAST is the last day of class for a given semester.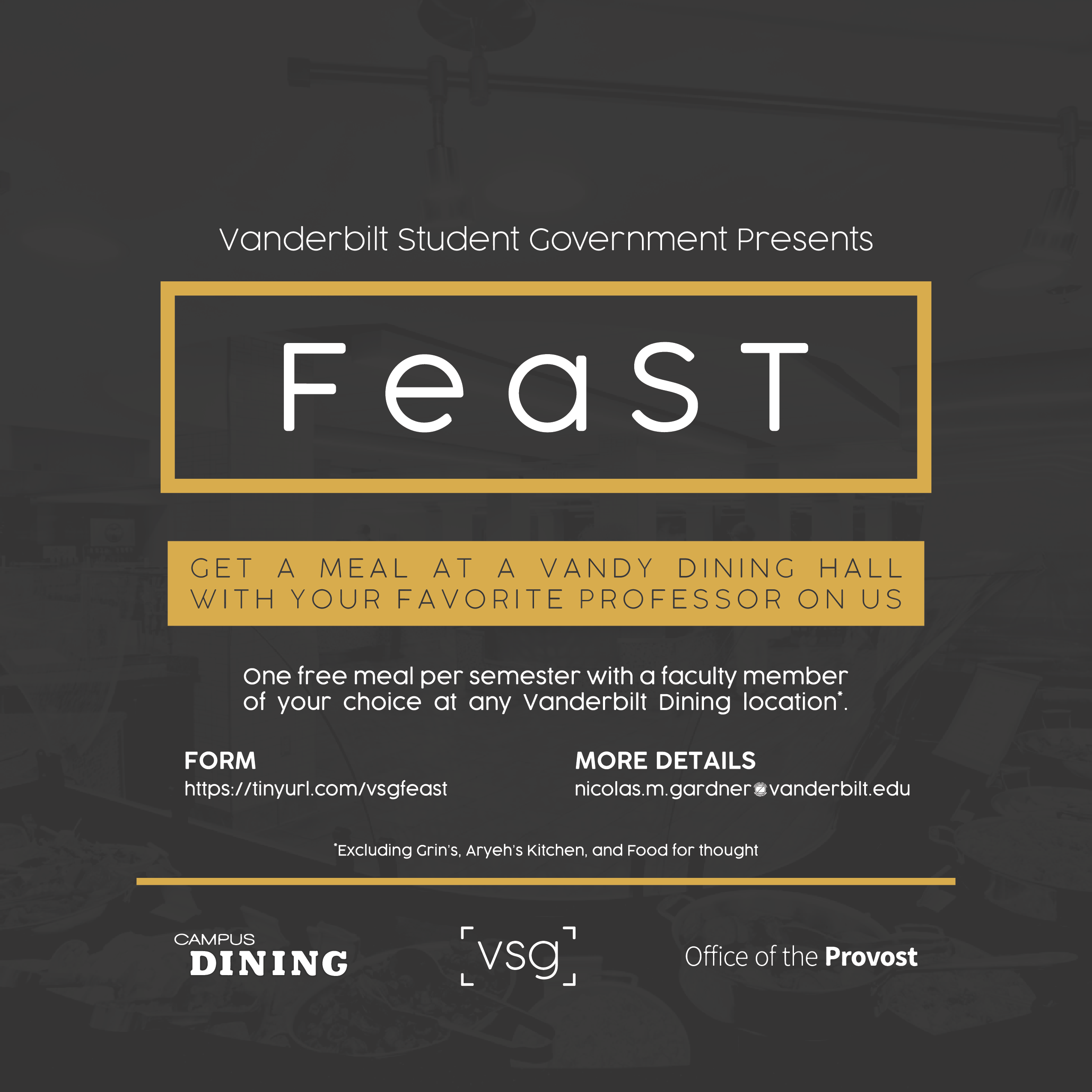 HOW TO USE FEAST
The FEAST request form for the Spring 2019 academic semester is now open. This form can be found on the VSG Anchorlink page or by clicking the button above. FEAST requests must be completed at least one week prior to your desired FEAST date.
NOTE: You must provide a confirmation email from your faculty member indicating that you plan to obtain a meal on campus at the time of completion of the FEAST request.
Once approved, please inform the cashier that you are using a FEAST meal and that both your meal and that of your faculty member will be charged from your FEAST account. If your approved FEAST was not correctly charged to FEAST, please contact VU Campus Dining or Academic Affair Committee Chair Nico Gardner to request a review of your charge.
HISTORY
FEAST has been a VSG initiative for the past since the 2015-2016 academic year. At that time, VSG allowed students to apply to have a meal with a faculty member during a one week period of each spring semester. A success for the students who were able to utilize the program, we noticed that very few students could take advantage of the program because everyone's schedule varies over the course of the semester.
With assistance from Provost Susan Wente, Dean of Students Mark Bandas, Vice Chancellor Eric Kopstain, and Director of Campus Dining David ter Kuile, we have expanded the program to the entire school year to help foster these relationships.