From the National Hispanic Heritage Month Website
Each year, Americans observe National Hispanic Heritage Month from September 15 to October 15, by celebrating the histories, cultures and contributions of American citizens whose ancestors came from Spain, Mexico, the Caribbean and Central and South America.
The observation started in 1968 as Hispanic Heritage Week under President Lyndon Johnson and was expanded by President Ronald Reagan in 1988 to cover a 30-day period starting on September 15 and ending on October 15. It was enacted into law on August 17, 1988, on the approval of Public Law 100-402.
The day of September 15 is significant because it is the anniversary of independence for Latin American countries Costa Rica, El Salvador, Guatemala, Honduras and Nicaragua. In addition, Mexico and Chile celebrate their independence days on September 16 and September18, respectively. Also, Columbus Day or Día de la Raza, which is October 12, falls within this 30 day period.
Hispanic Heritage Month at Vanderbilt
ALAS celebrates Hispanic Heritage Month with a variety of events. Our programming varies slightly from year to year but always concludes  with a grand celebration "Sabor Latino," which includes food, performances, and music. Below are pictures and the schedules of HHM in past years.
2021
Sabor Latino (SLC Ballroom 10/6 4-7:30pm)
Join us for food, music and dancing as we celebrate "Somos VU"
Keynote Speaker Event: Daphne Frias (Alumni Hall 202 10/21 7pm)
A proud champion for the disabled community, Daphne has Cerebral Palsy and uses a wheelchair to ambulate. She is equally passionate about topics like gun violence and climate change. Notably, she helped organize the 2019 Climate Strikes and worked as the NY State Director for March for Our Lives.
Come hear Frias speak on Thursday, October 21st at 7 PM in Alumni Hall 202. Attendees will be able to get food from Merengue Cafe at the end of the event.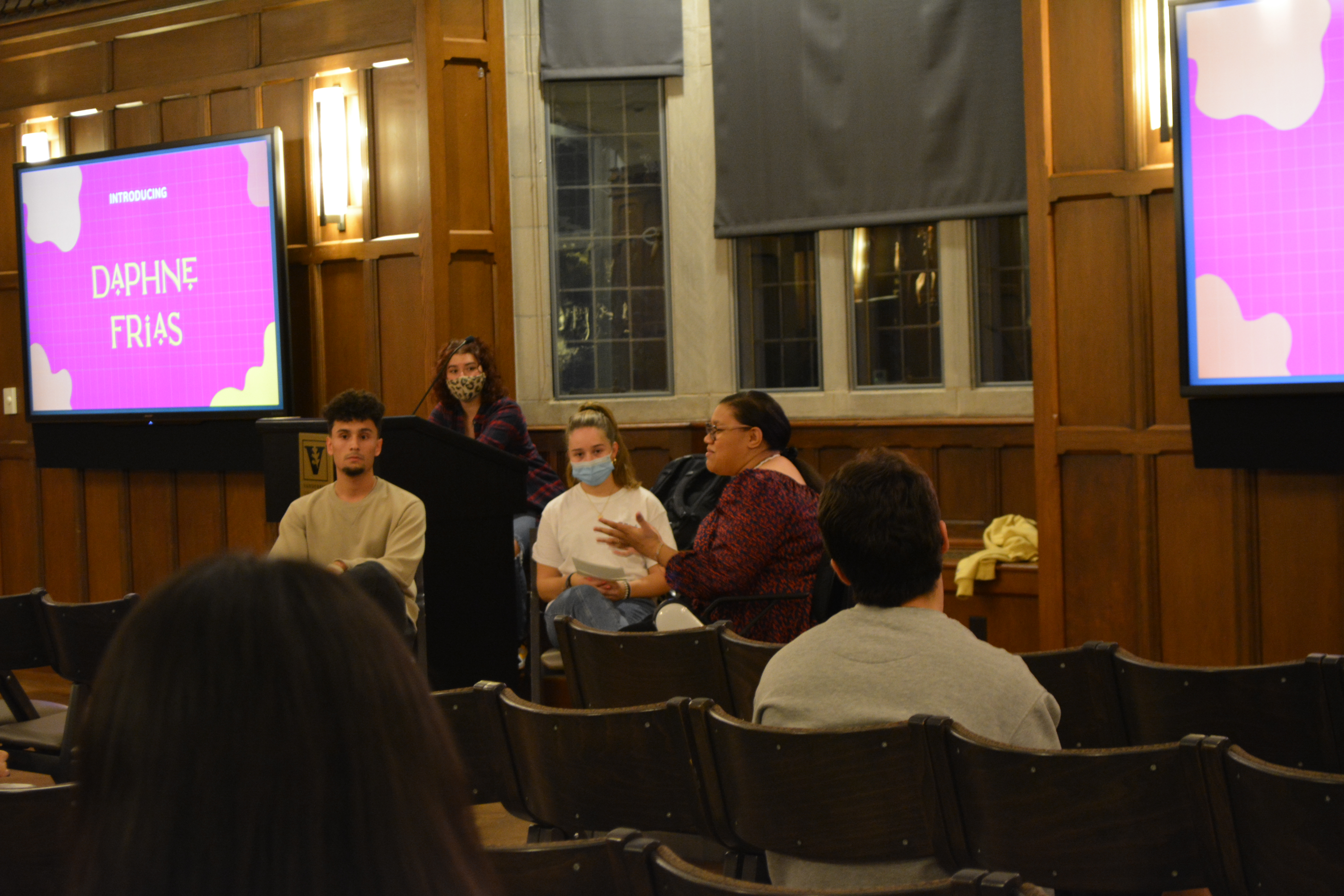 2020
Check back for HHM events for 2020! We will be hosting virtual events this year that will be advertised in our newsletter and on our social media.
2019
Community Reception (9/18 from 6pm to 7pm in the Alumni Lounge)
Sabor Latino (SLC Ballroom 10/7 6-9pm)
Join us for food, music and dancing as we celebrate "Somos VU"
Identity Discussion with Bernardo Ferdman (Alumni Hall, Oct 11 4:40-6:30)
Bernardo M. Ferdman, Ph.D. is distinguished professor emeritus of Organizational Psychology at the
California School of Professional Psychology of Alliant International University, in San Diego, California,
and a leadership and organization development consultant with over three decades of experience
consulting, writing, speaking, teaching, and conducting research on diversity, equity, and inclusion;
multicultural leadership; Latinos & Latinas in the workplace; and bringing one's whole self to work. He will be leading a discussion on identity and inclusion.
2018
Lanzamiento (9/15 from 11am to 2pm at Rand Wall)
Stop by our table at Rand Wall to get a refresing paleta, a sticker, and information on our programming.
Community Reception (9/18 from 6pm to 7pm at the Alumni Lounge)
Join us for a celebration of the Latino Community at Vanderbilt. We will invite other student organizations and academic departments for an evening of discussion, mingling, and celebrating.
Latino Heritage and Cultural Awareness Workshop with Carlos Andres Gomez (9/25 from 5pm to 6pm at Buttrick 306
What is the difference between the terms Spanish, Hispanic, Latino, Latinx?  Why are terminology and representation important?  How does your unique cultural background, however you identify, influence the way you navigate the world?  As part of VAHS' Hispanic Heritage Month 2017 programming, award-winning poet and speaker Carlos Andrés Gómez will guide the group in this interactive workshop open to participants of all backgrounds through a dynamic discussion about culture and social identity, beginning with his own and bridging it to those of others.
Carlos Andres Gomez: A Discussion of Culture and Identity Through Spoken Word (9/25 from 7pm tp 9pm at Sarratt Cinema)
Carlos Andrés Gómez is an award-winning spoken word poet from New York City, widely known for his viral poems "What does Hispanic look like?" and "Where are you really from?." Winner of the 2015 Lucille Clifton Poetry Prize and the 2015 Makeda Bilqis Literary Award, Carlos has been featured on NPR, TEDx, The New York Times, Upworthy, MSNBC, the United Nations Commission on the Status of Women, the Omega Institute's Women and Power Conference, on Broadway with Savion Glover, and more. A former social worker and public school teacher, Carlos has lectured and performed at more than 400 colleges and universities, facilitated countless workshops and performances, and delivered numerous keynotes and commencement addresses.
Dia de La Raza (10/12 Time, Place, and Event details TBD)
Sabor Latino (10/7 Time TBD at SLC Ballrooms)
Let's celebrate the end of Hispanic Heritage Month with a night full of dancing, authentic Latin food from local restaurants, prizes, and performances.