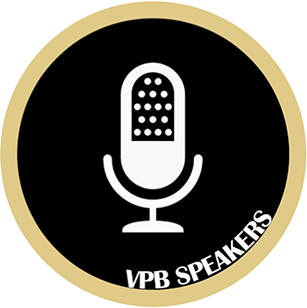 Mission:
The Vanderbilt University Speakers Committee has the responsibility of enhancing the quality of student life and the Vanderbilt educational experience by attracting and presenting distinguished speakers to the University. The programs of the Speakers Committee seek to encourage thoughtful reflection and dialogue on contemporary issues in order to promote and strengthen the intellectual environment at Vanderbilt. We achieve this by inviting speakers throughout the year who are entertaining, diverse, and accomplished in their fields. One of our most important events is the IMPACT Symposium, which has been a tradition at Vanderbilt since 1964. This is an annual multi-day symposium in which speakers are invited to discuss current events and topics of a controversial nature.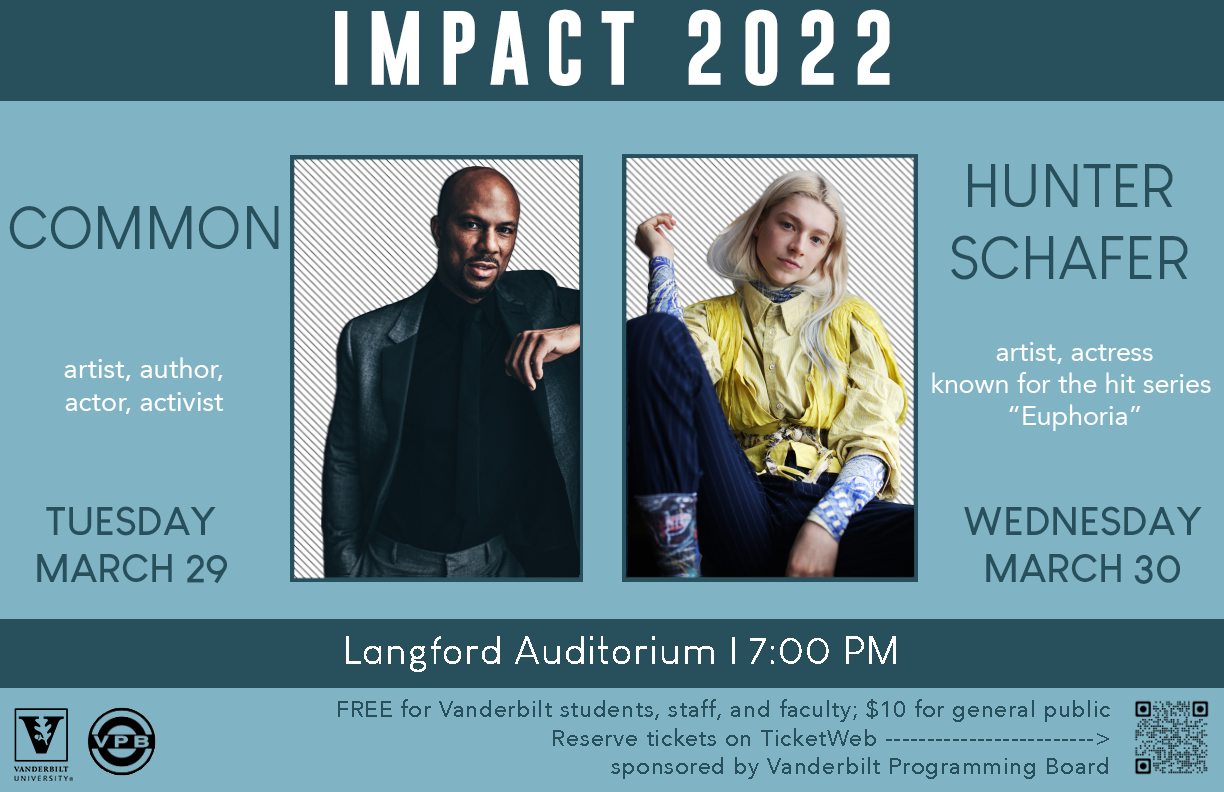 Vanderbilt University's IMPACT Symposium, one of the oldest lecture series of its caliber in the nation, this year features Common and Hunter Schafer.
Tickets for this event are FREE for Vanderbilt students, faculty, and staff, and are $10 for the general public. All events take place at 7pm in Langford Auditorium. Tickets are available on TicketWeb. Note: each night requires a separate ticket.
This symposium is sponsored by the Vanderbilt Programming Board Speakers Committee, an organization of undergraduate students dedicated to enhancing the quality of student life and the Vanderbilt educational experience through attracting and presenting distinguished speakers to the university.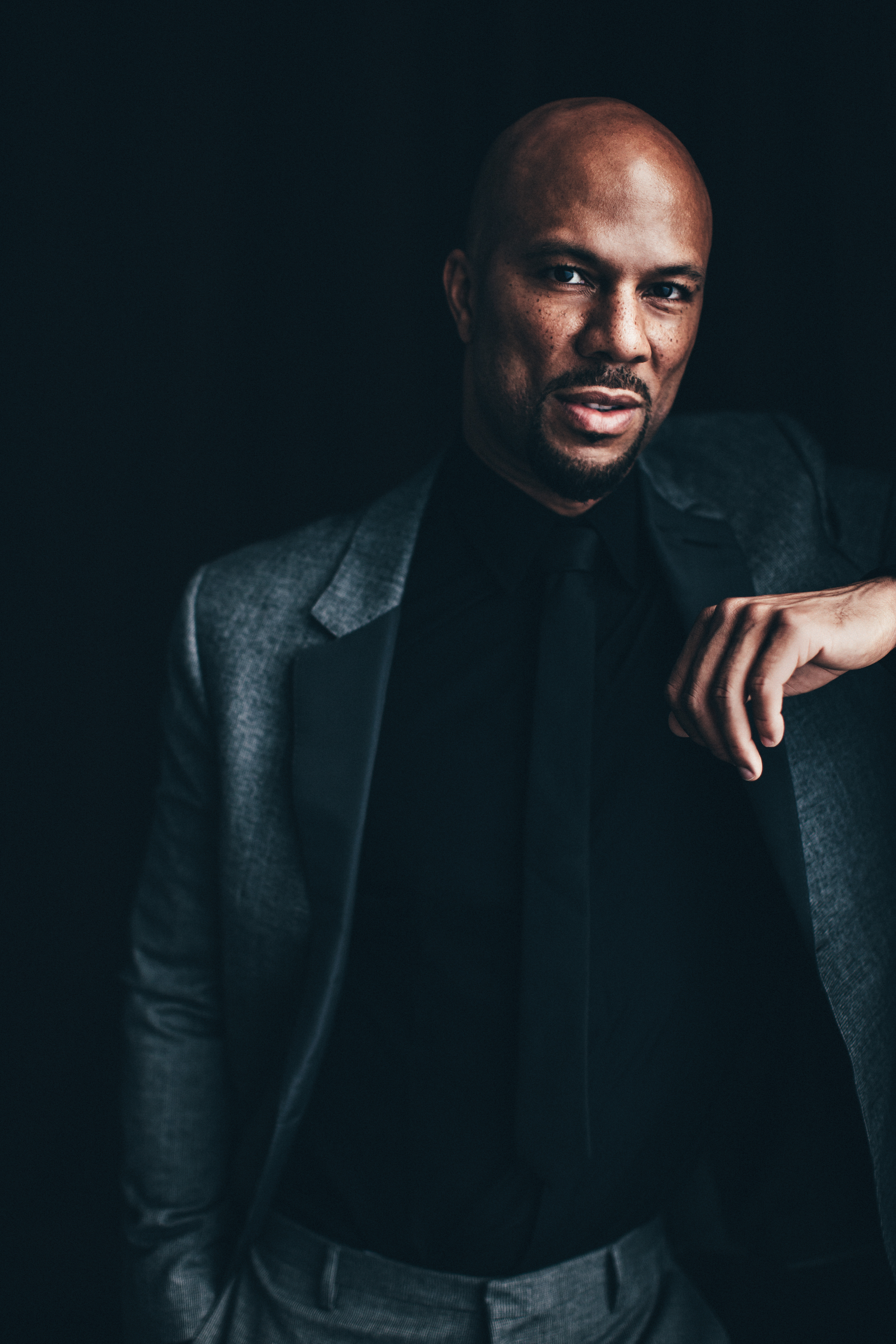 Hip hop artist and actor Common is one Tony Award away from becoming an EGOT—Emmy, Grammy, Oscar, Tony—winner. And that's not counting his Golden Globe or any of the other numerous awards he's won. Throughout his career he has used his art as a platform to change people's perspectives, promote more diverse narratives, and encourage people to move. At the podium, Common motivates audiences to nurture the dreams of the young, overcome adversity, and address the persistent hope that lives within us all. Compassionate, mindful, and driven to inspire, Common reminds audiences that we all have a voice—and we must speak out.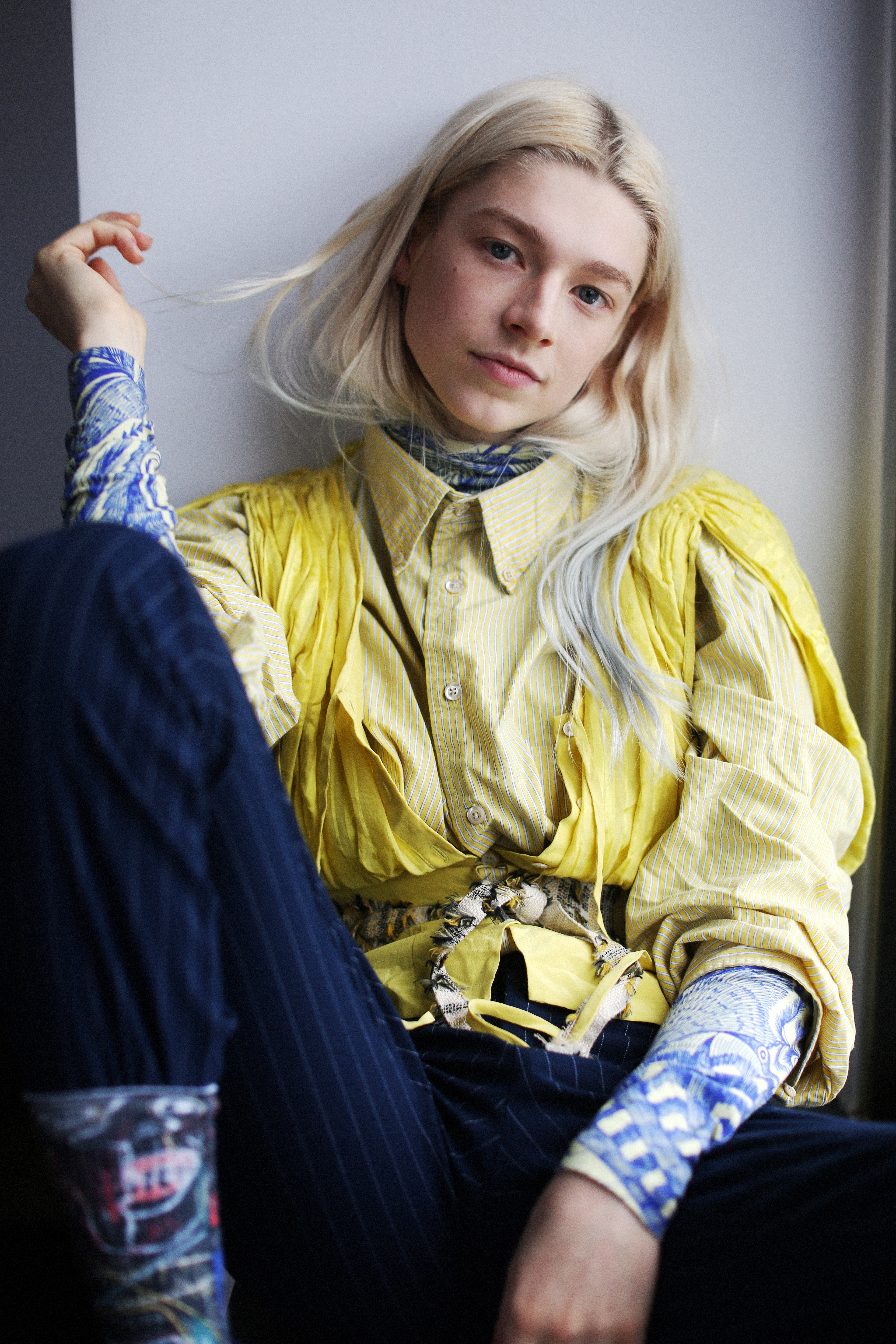 Hunter Schafer is an actress and artist best known for playing 'Jules Vaughn' in HBO's Emmy-Award Winning series EUPHORIA. Hunter most recently starred in a special episode of the hit series which she co-wrote and co-executive produced with series creator Sam Levinson during quarantine. Before landing the role of Jules, Schafer worked as a fashion model for popular brands such as 'Calvin Klein,' 'Dior,' 'Helmut Lang,' 'Maison Margiela,' 'Marc Jacobs,' 'Miu Miu,' 'Vera Wang,'  'Versace,' and 'Rick Owens.'  Schafer has appeared on the cover page of many popular magazines, including 'Porter' 'V' 'Allure' and 'Dazed.' Teen Vogue Nominated Hunter for its 2017 '21 Under 21' list.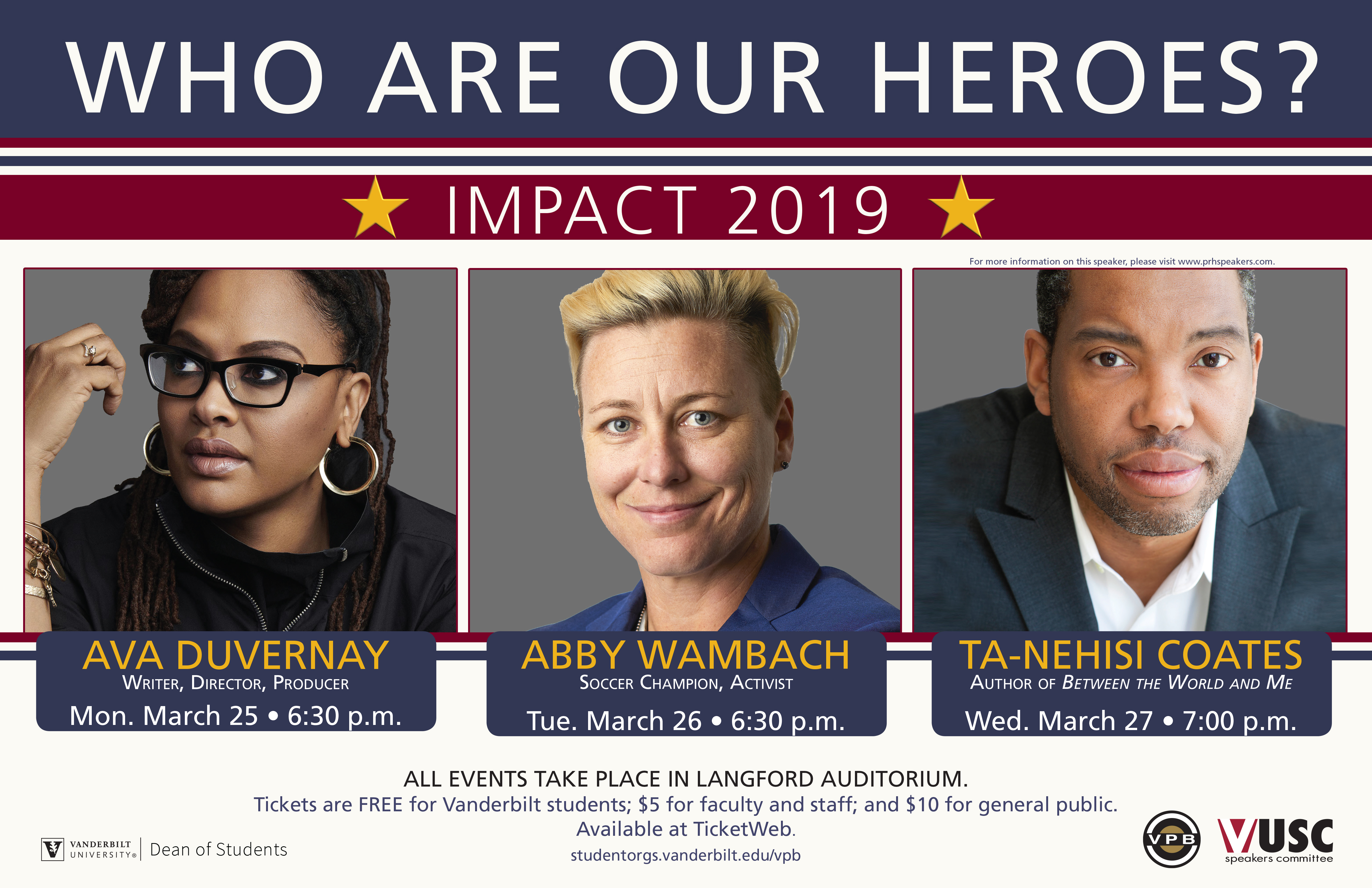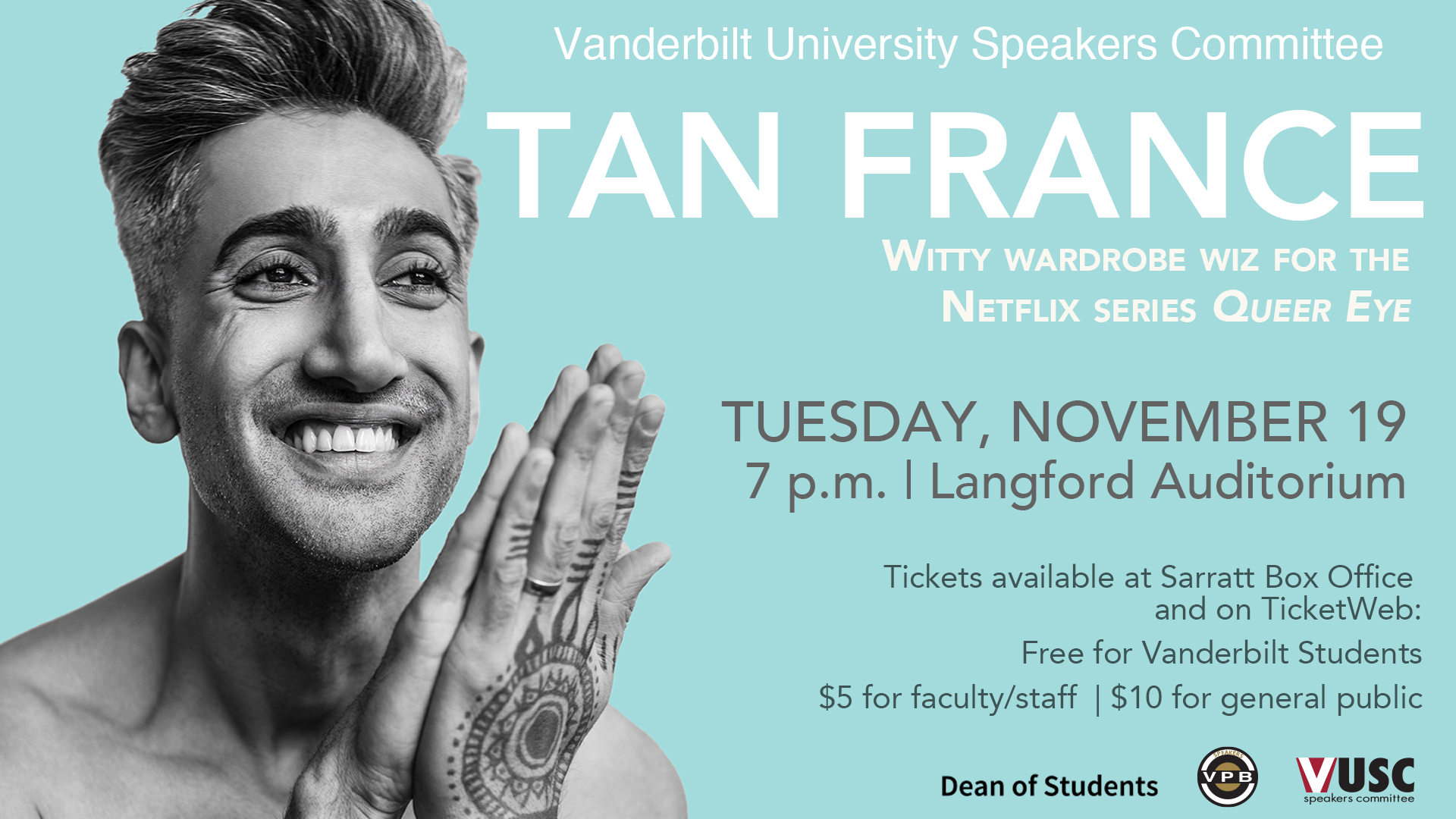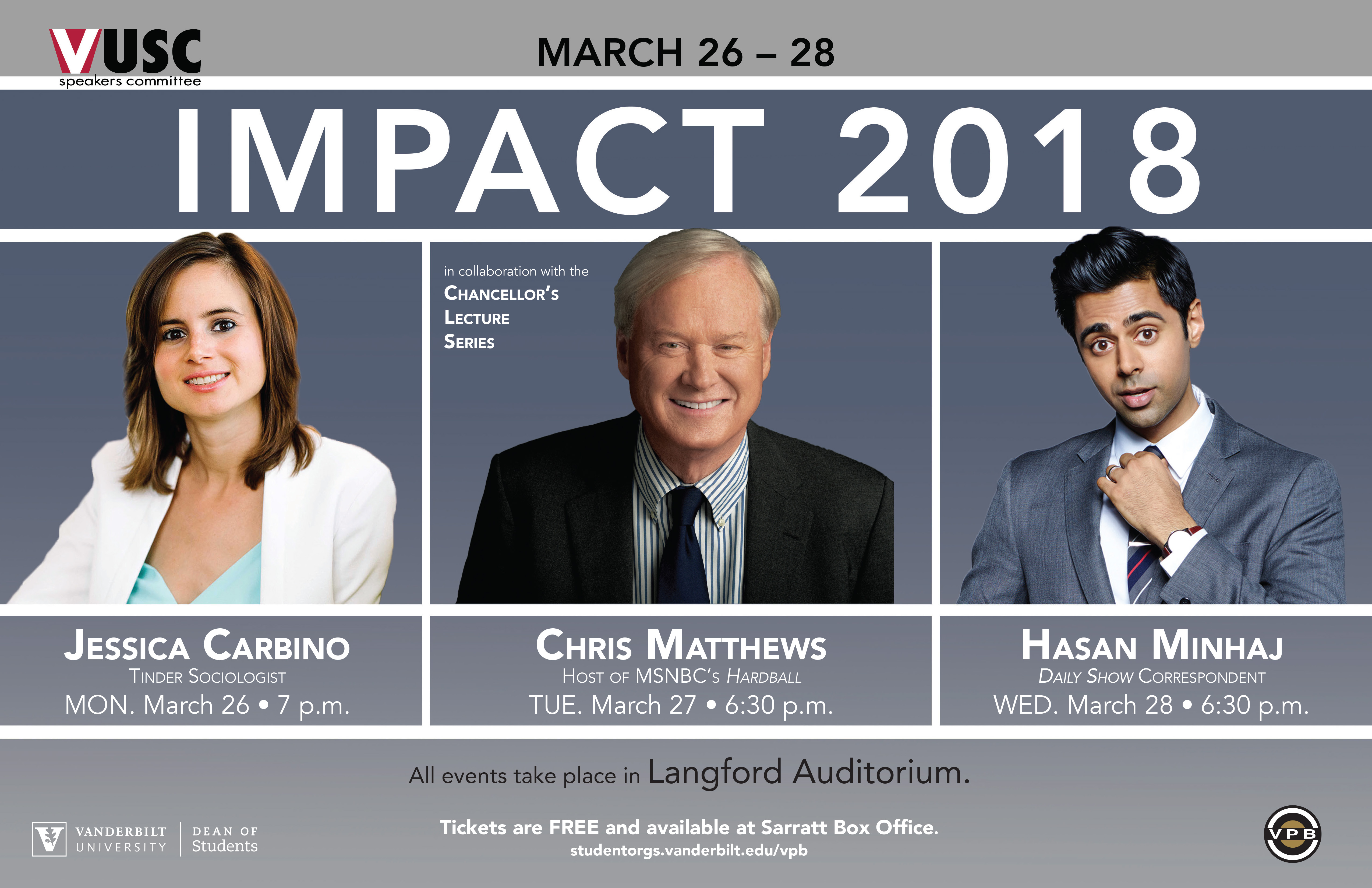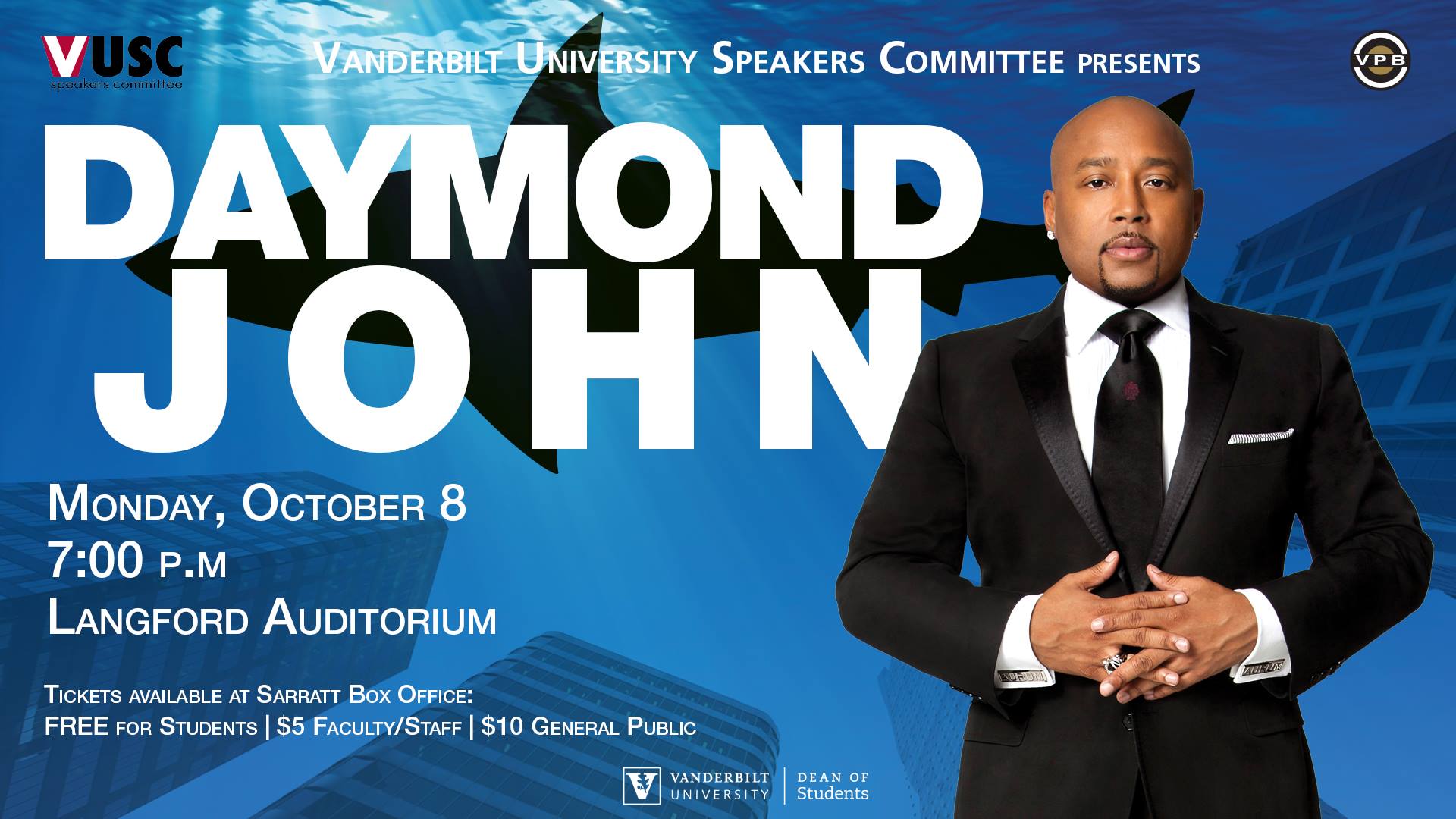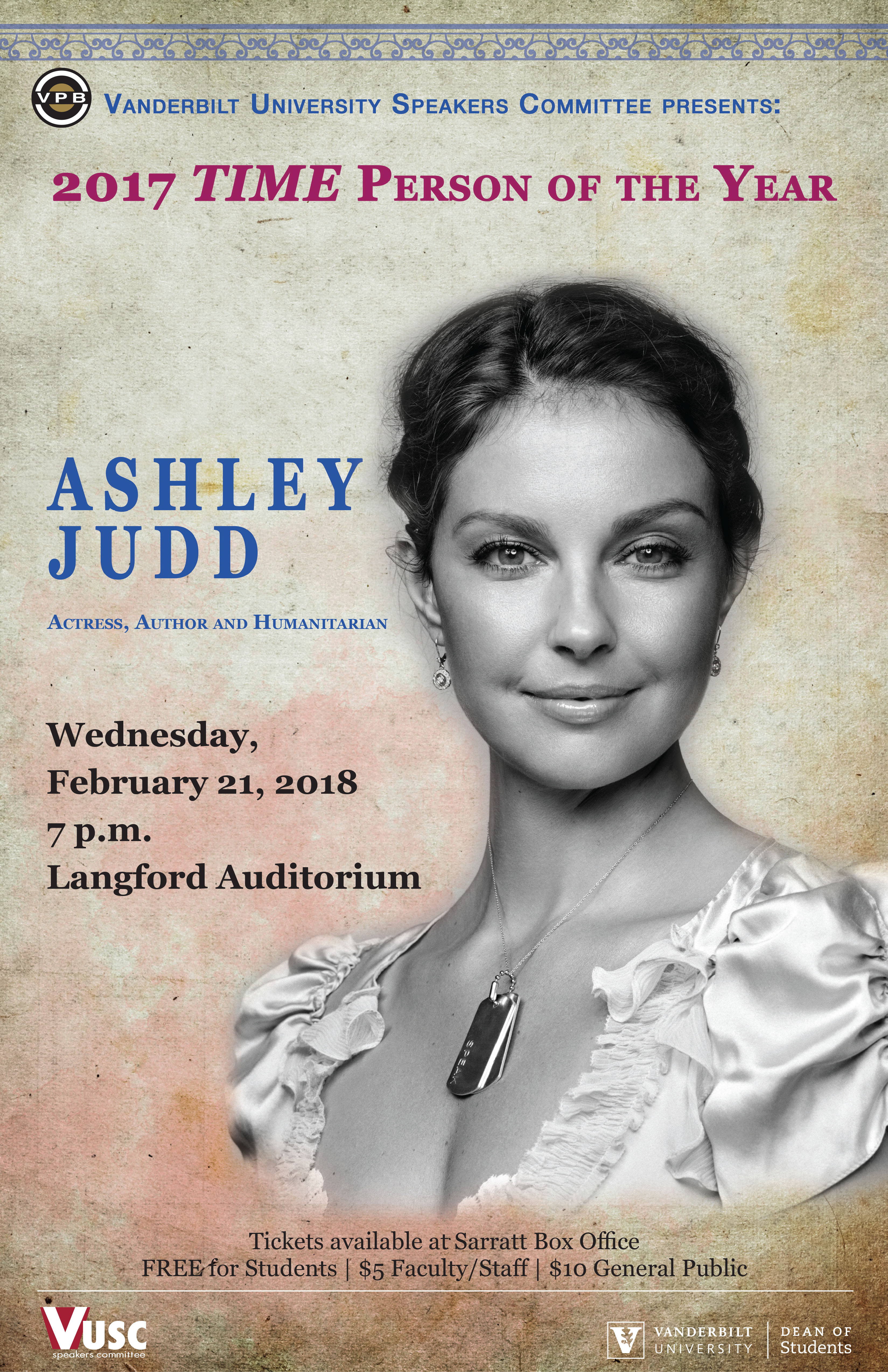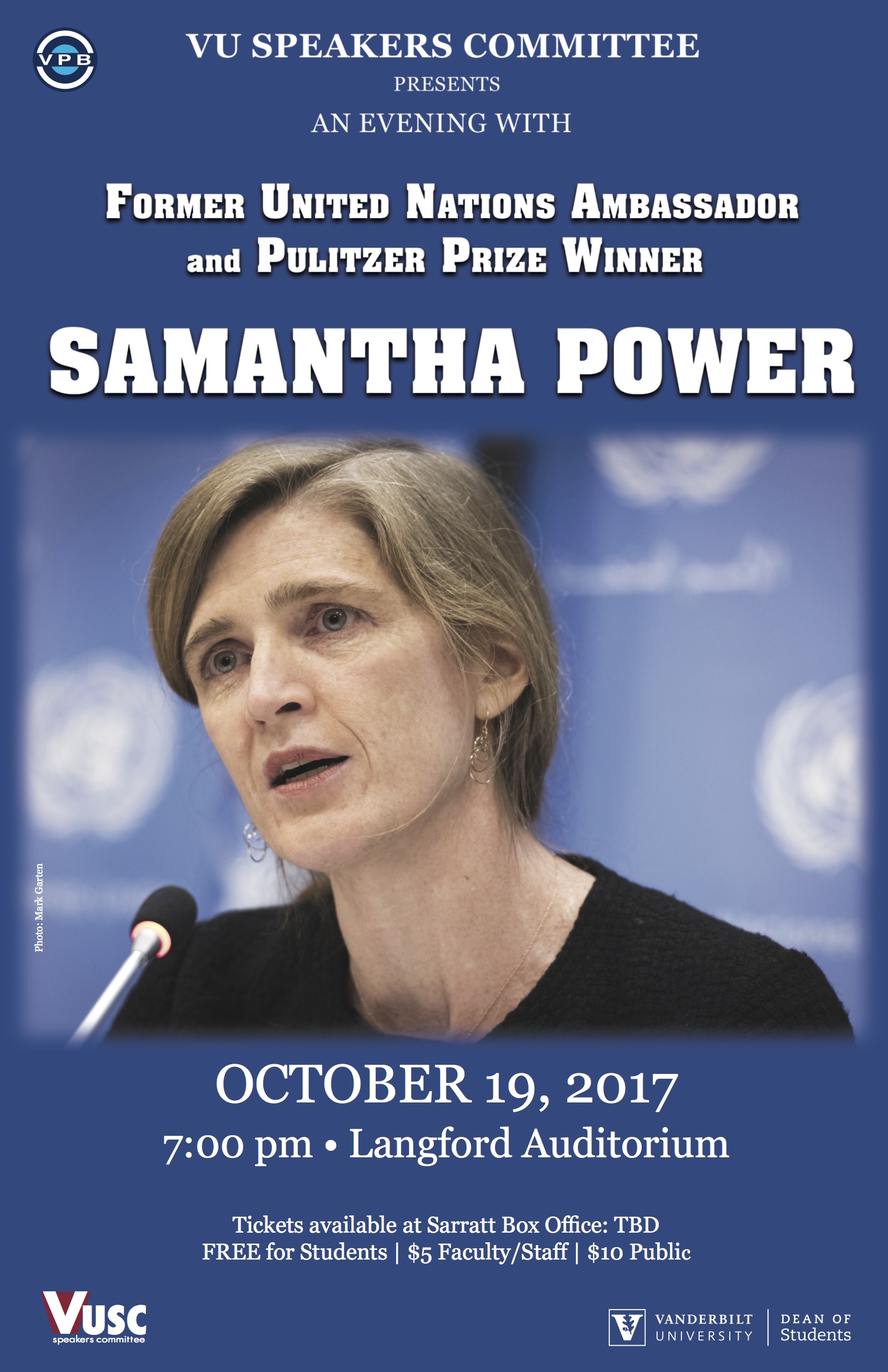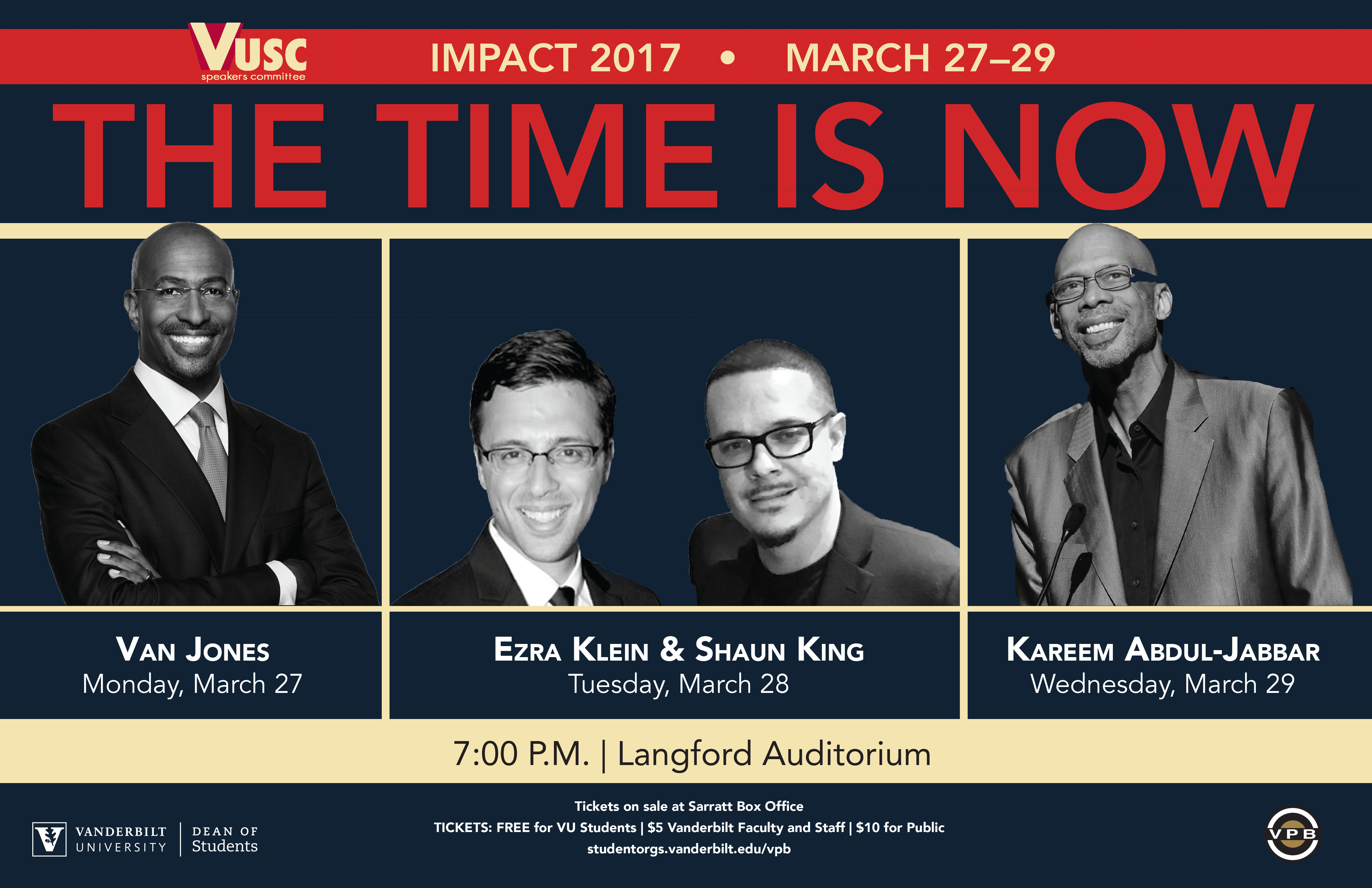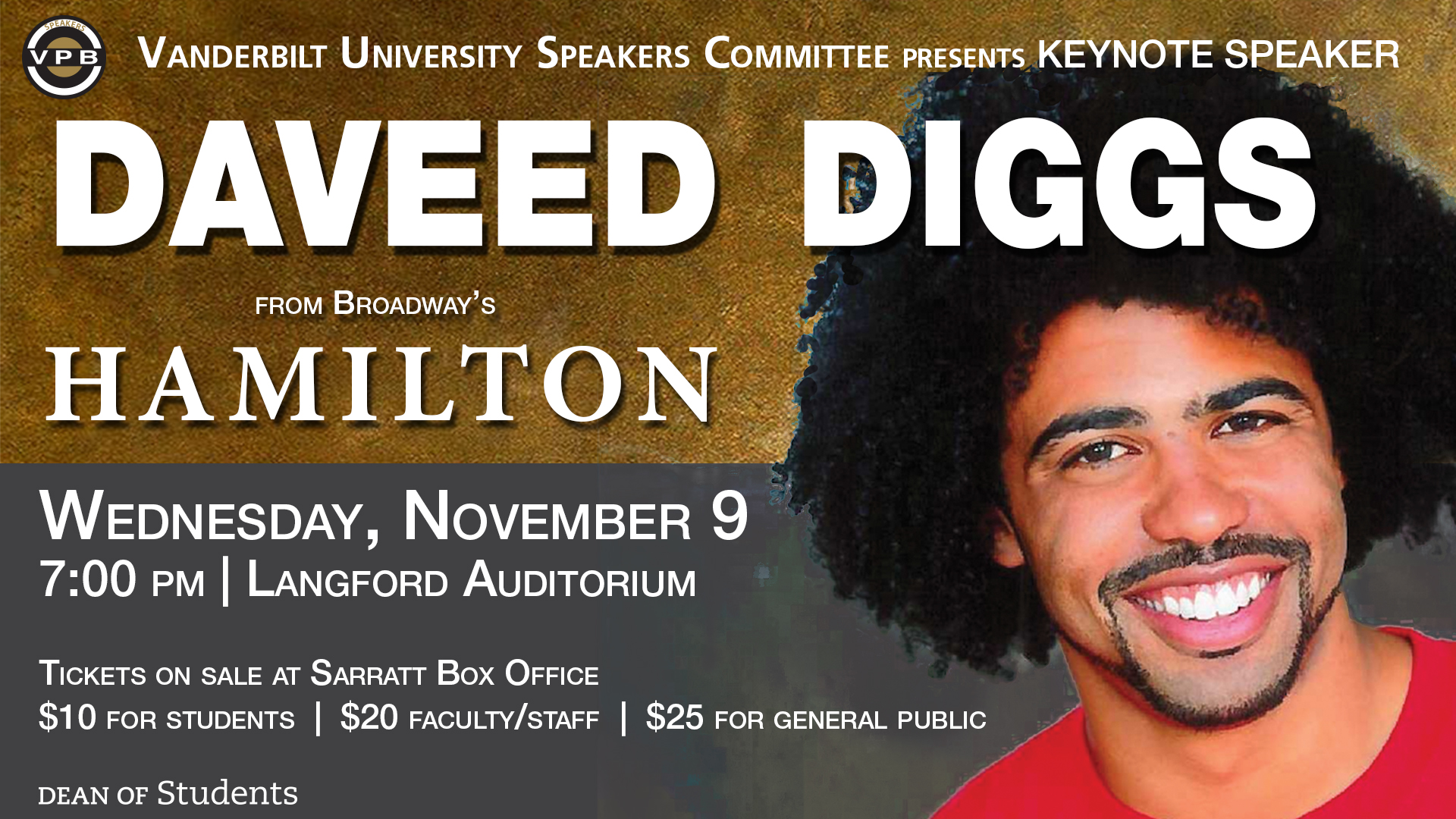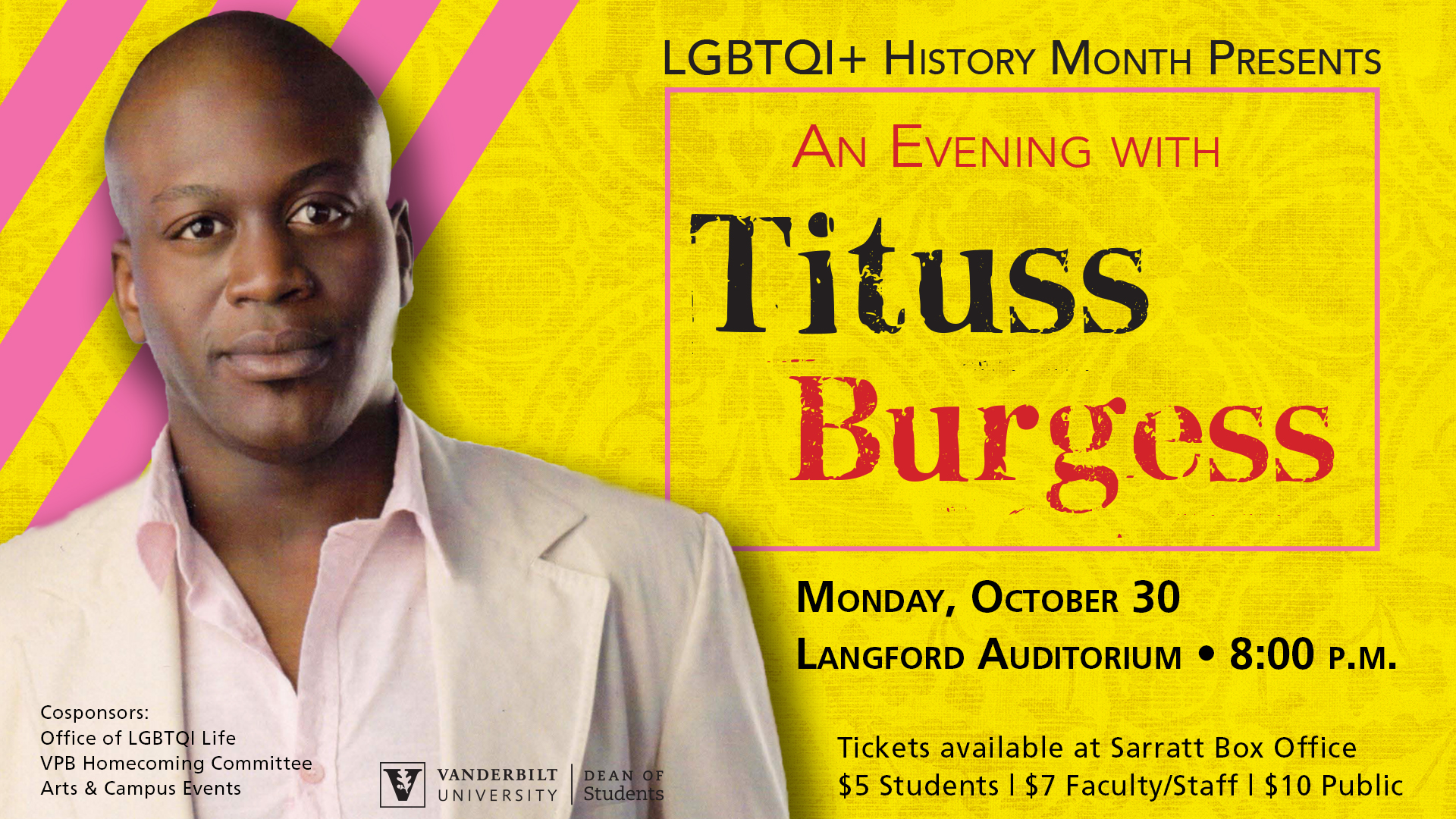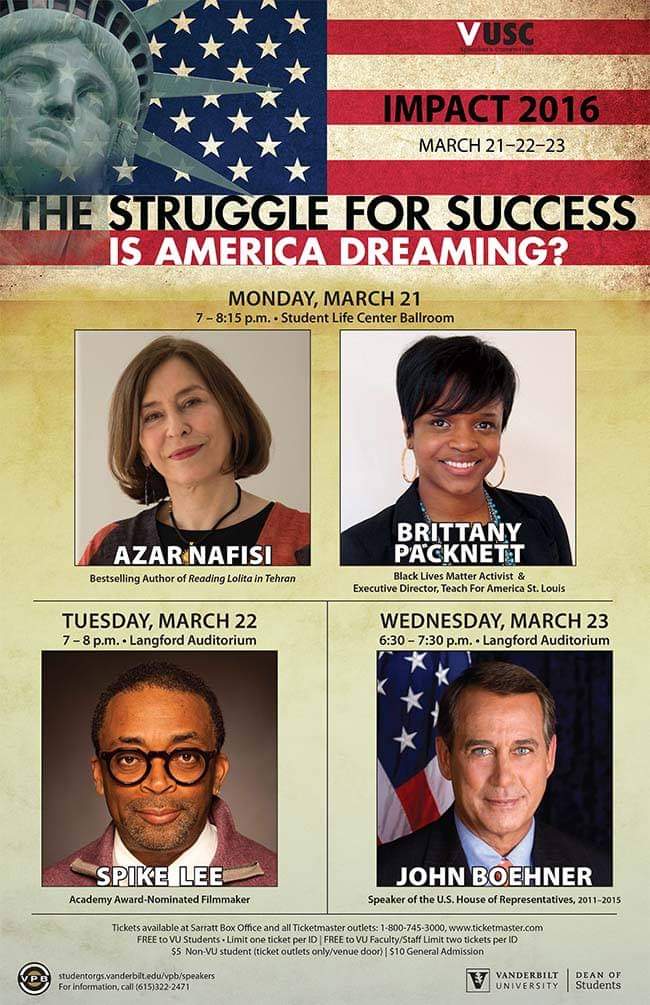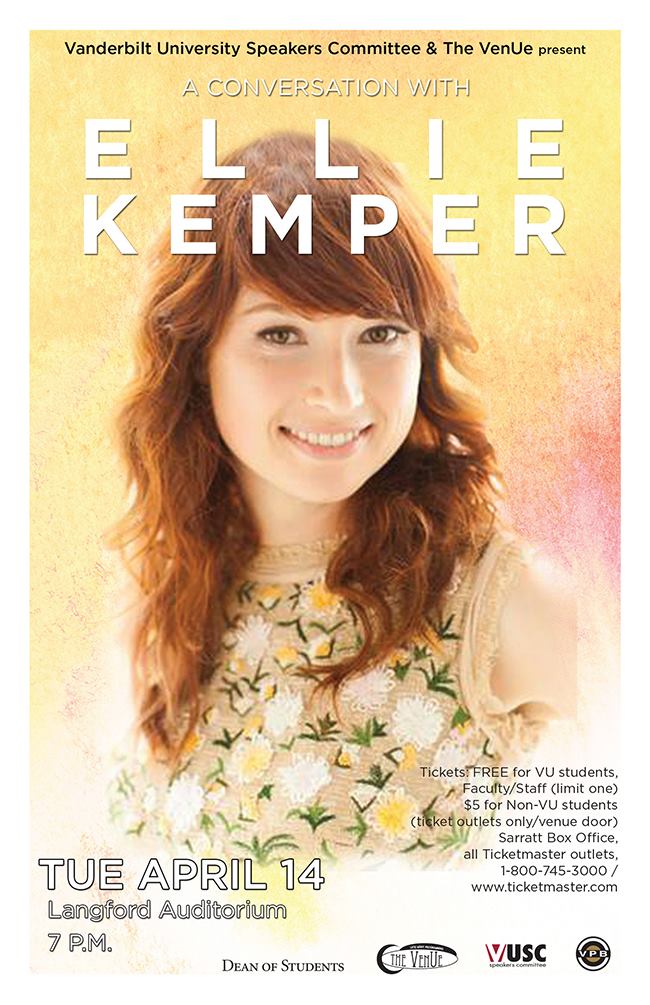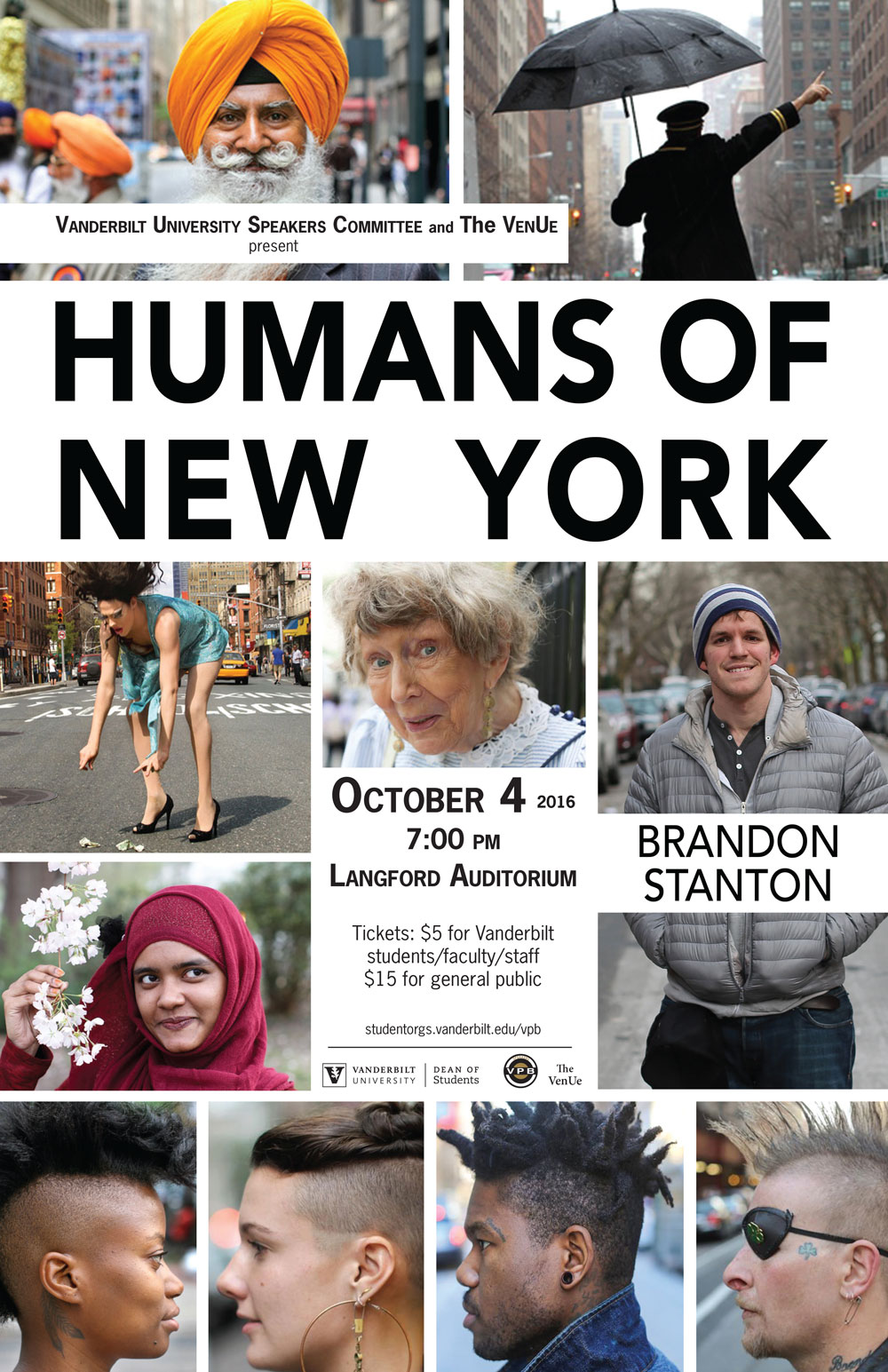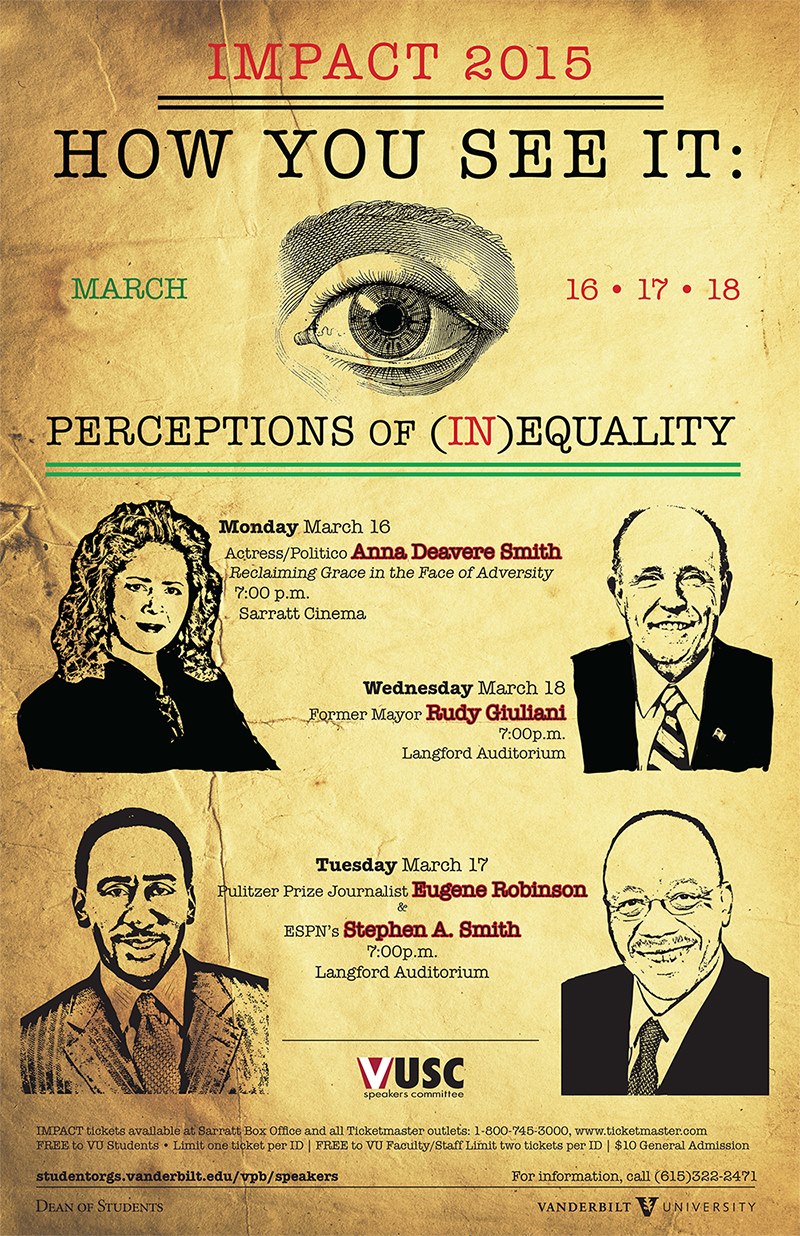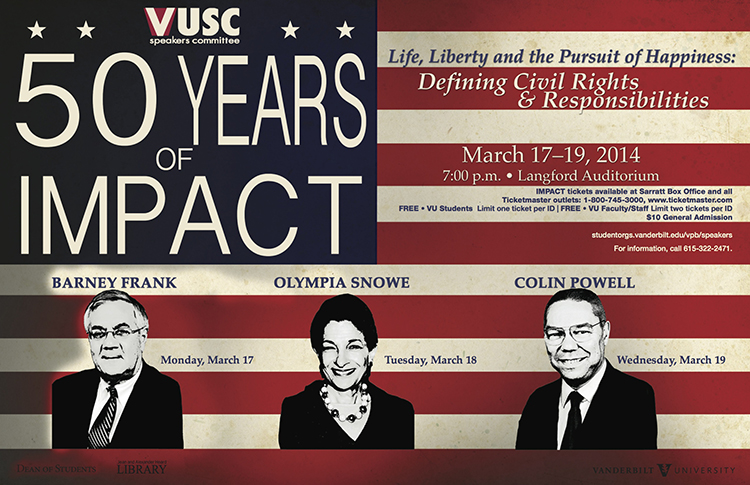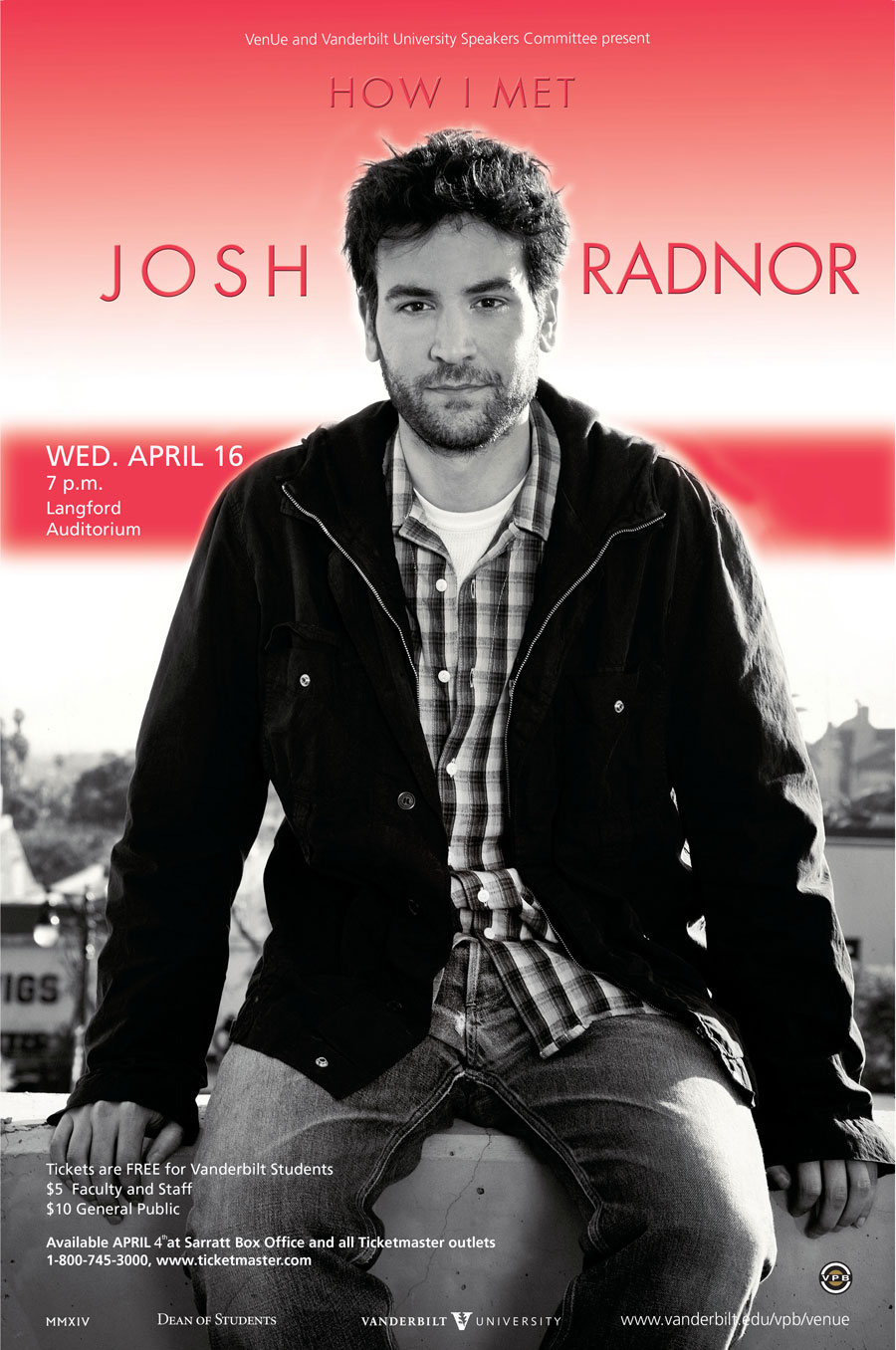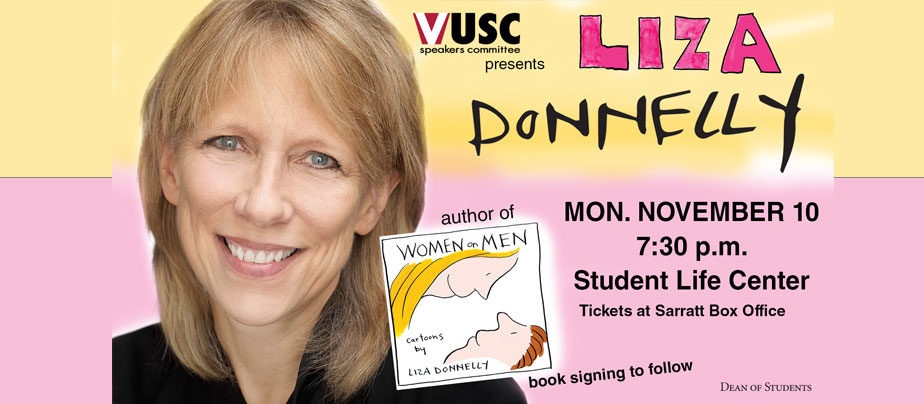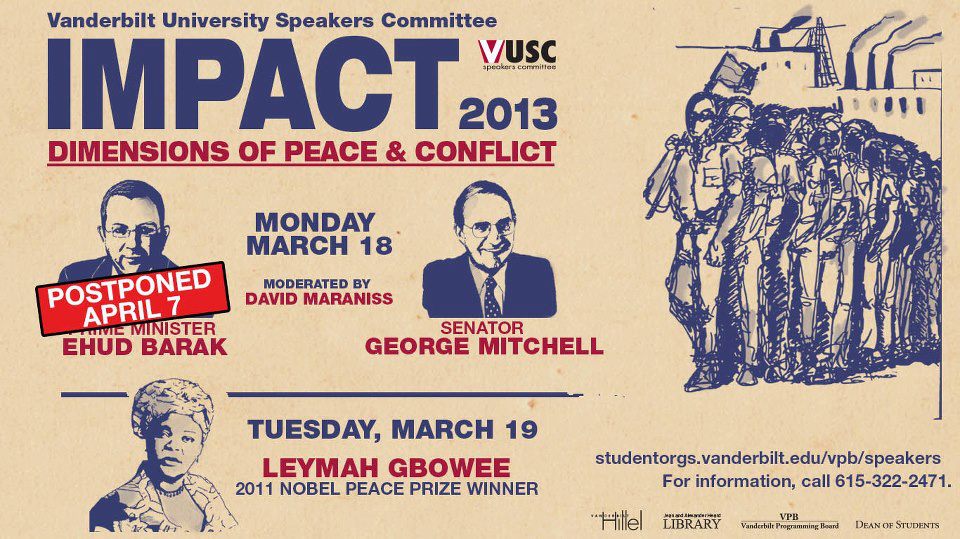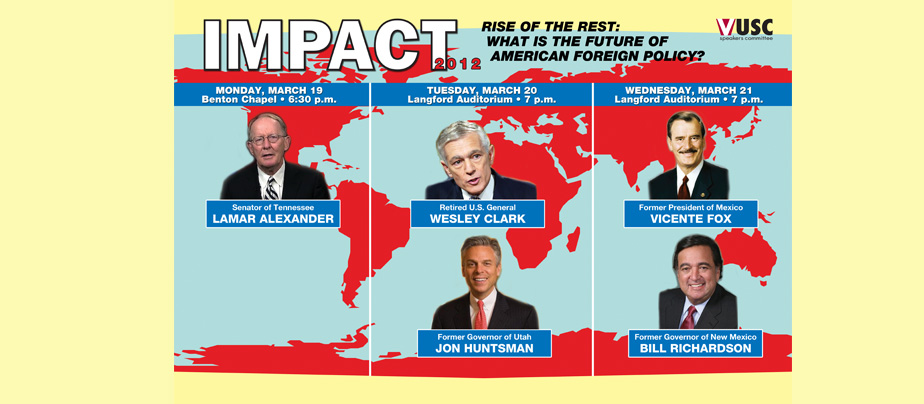 Year

IMPACT Theme

Speakers

1964

The South in Transition

Ralph McGill

James J. Kirkpatrick

1965

Democratic Responsibility

Winthrop Rockefeller

George Wallace

1966

America's New Global Challenge

Barry Goldwater

Alexander Kerenski

John Seigenthaler

1967

Individual in American Society

Martin Luther King Jr.

Allen Ginsberg

Strom Thurmond

Stokley Carmichael

1968

The Resting of Dissent

Julian Bond

Robert F. Kennedy

William F. Buckley Jr.

1969

The Emerging Generation

McGeorge Bundy

Nathan Hare

Allan Lowenstein

Edmund Muskie

1970

The Struggle to Communicate

James J. Kilpatrick

William Kuntsler

1971

Technology and Social Change

George McGovern

Sam Ervin

Bella Abzug

1977

America's role in its Third Century

Omar Bradley

Thomas Eagleton

Frank Church

Phillip Crane

Donald Rumsfeld

1978

The Destiny of the South

Thomas B. "Bert" Lance

Barbara Jordan

Robin Beard

1979

Towards Global Unity

George HW Bush

Ivor Richard

Betty Williams

1980

The Election:  America's Leadership Decision

Tom Brokaw

George McGovern

Jack Kemp

Malcolm Toon

1981

American Foreign Policy:  New Directions For the 80s

William H. Sullivan

Edmund Muskie

Robin Beard

1982

Conservatism:  A Mandate from the People

Gary Hart

Richard Allen

1983

Technology and Society:  Contemporary Perspectives on Progress

Al Gore

Leon Martel

1984

The Private Sector:  Is it Governmental Business

Jerry Brown

John LeBoutillier

Eugene McCarthy

1985

Media Under Fire:  The Rights and Responsibilities of the Media

Sam Donaldson

Jody Powell

John Dancy

Nina Totenberg

1986

The Next Move:  Conflict or Compromise in East/West Relations

Jimmy Carter

Gerald Ford

Robert McNamara

Andrew Young

1987

The Regan Era and Beyond:  Looking Back to Look Ahead

William Proxmire

Arthur Schlesinger, Jr.

Michael Deaver

Hodding Carter III

1988

Global Leadership:  Does America Have the Edge

Jean Kirkpatrick

Zbigniew Brzezinski

John Daney

1989

Battle on the Homefront:  Preserving the American Dream

Jesse Jackson

Bettina Gregory

Edwin Newman

Joe Clark

James Neal

William Rusher

1990

Freedom:  The Popular Mandate in Eastern Europe

James Schlesinger

1991

Democracy in Distress:  America Ideals on Trial

William Bennett

Tip O'Neill

Robert Novak

1992

Campaign '92:  Will Rhetoric Become Reality

Oliver North

P.J. O'Rourke

Helen Thomas

Ronald Brown

1993

America:  Challenged to Change

Jack Kemp

James Carville

Mary Matalin

1994

The New World Order:  Will America Find its Role?

Oscar Arias

Lawrence Eagleburger

William Webster

1995

The First Hundred Days:  A New Direction

Mario Cuomo

Dan Quayle

1996

From Bosnia to Beyond:  The International Response

Margaret Thatcher

Edward L. Warner III

1997

Education:  Leading the United States into the 21st Century

Lamar Alexander

Bill Bradley

Cal Thomas

John Siegenthaler

1998

Campaigning in America:  Renewing Democracy for the 21st Century

Bob Dole

Dick Morris

1999

Challenges of a Changing World

Colin Powell

Robert Gates

2000

Violence America's Response

John Walsh

Chuck D.

John Lott

Frank Zimring

2001

Will the White House Ever be the Same

James Carville

David Gergen

Sam Feist

Joel Kaplan

2002

The Steel of American Resolve

Norman Schwarzkopf

Thomas Von Essen

Sam Feist

Joel Kaplan

2003

The Political Divide

General Barry McCaffrey

James Carville

Mary Matalin

2004

The Media's Election:  The Influence of the Media on the 2004 Presidential Election

J.C. Watts

Paul Begala

Tucker Carlson

2005

Visions of America

Al Sharpton

Ann Coulter

Howard Dean

2006

Disappearing Borders

Peter Brimelow

John Edwards

2007

The Political Landscape

Lou Dobbs

Newt Gingrich

Harold Ford Jr.

2008

Middle East Meets West

Ayaan Hirsi Ali

Reza Aslan

Gideon Yago

John Abizaid

2009

Diplomacy in the New Millennium

Madeleine Albright

Natan Sharansky

2010

The Future of Capitalism

Ralph Nadar

John Stossel

Mitt Romney

2011

Bridging the Gap:  America's Middle Class

Arianna Huffington

William Kristol

Tim Pawlenty

Christina Romer

2012

The Rise of the Rest:  What is the Future of American Foreign Policy

Lamar Alexander

Wesley Clark

Vincente Fox

John Huntsman

Bill Richardson

2013

Dimensions of Peace and Conflict

Ehud Barak

George Mitchell

Leymah Gbowee

2014

Life, Liberty and the Pursuit of Happiness:  Defining Civil Rights and Responsibilities

Gen. Colin Powell

Olympia Snowe

Barney Frank

2015

How You See It:  Perceptions of (In)Equality

Anna Deavere Smith

Eugene Robinson

Stephen A. Smith

Rudy Giuliani

2016

The Struggle for Success:  Is America Dreaming?

Azar Nafisi

Brittany Packnett

Sike Lee

John Boehner

2017

The Time is Now:  What Message Will We Send?

Van Jones

Shaun King

Ezra Klein

Kareem Abdul-Jabbar

2018

Chris Matthews

Hasan Minhaj

Jessica Carbino

2019

Who Are Our Heroes?

Ava DuVernay

Abby Wambach

Ta-Nehisi Coates

2020

Cancelled – COVID

Steve Wozniak

2021

Aubrey Plaza

Laverne Cox

Bill Nye