The Advising Basics:
Advisors will meet with students in search of advice pertaining to research (e.g., how to contact a PI, how to conduct oneself in a lab, how to advocate for oneself) Any and all questions are welcome!
Booking an Advising Appointment:
Advisees will be able to book appointments online through Doreways — see the sign up instructions below. They can choose from the available times, which will vary based on the advisor they choose. The times in Doreways will not show who the individual advisor is, but we will have our times posted on the SIM wesbsite so the advisees can select their preferred advisor based on the days/times posted.
Details of an Advising Session:
Meetings will be conducted via Zoom and you will receive the Zoom link after registering for a coaching appointment. Advisors are SIM board members. Advisees are any and all undergrads who are interested! We will have group advising sessions so you and your friends can sign up for the same advising time and have your questions answered together.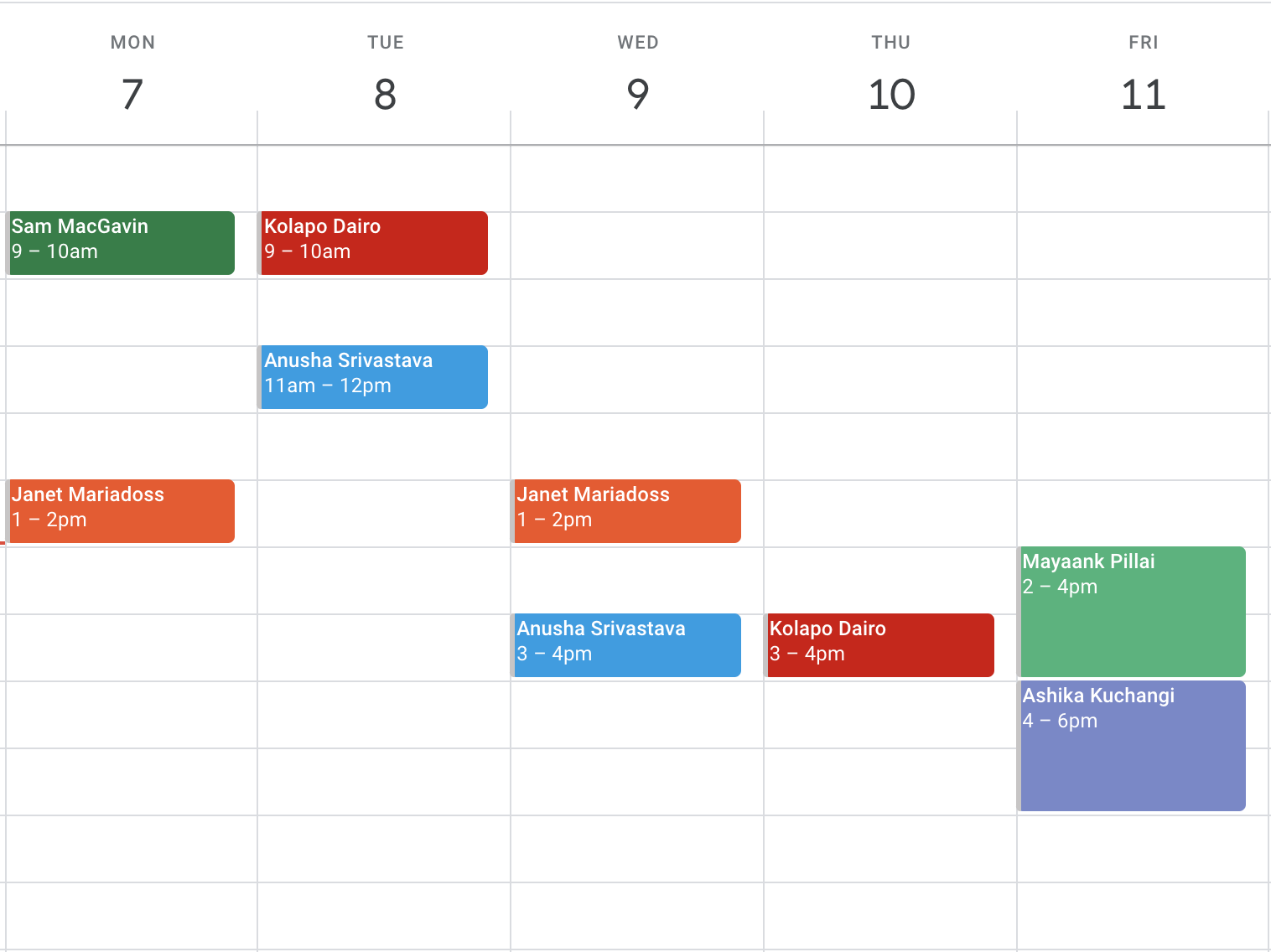 How to Sign Up for an Advising Session:
1. Log in to Doreways (using the student log in credentials) – just google "Doreways student log in."
2. Click on Students, log in.
3.  On the left sidebar, click the "Counseling and Calendar" drop down menu, and then click on "Coaching Appointments."
4. Scroll down and click on the black button that says "Request New Appointment."
5. Click on the "Type" drop down menu and select "SIM Science Advising Meeting". Under "Coaches", select "SIM Science Advising". Under "Days of the Week", select the desired days. Click "Check Availability."
6. Choose the desired appointment from the options that pop up on the right.
7. Under "Reason for Appointment", please write why you are seeking advising.
8. Click the black button that says "Submit Request."
For further assistance, see the screenshots below:
Advisor Specialties/Experiences
All Advisors – All advisors can answer your general research questions on approaching laboratories, communicating with a PI, strategies for success in a lab, and research for credit on campus.
Natalie Loveridge – conducts research in Dr. Borden Lacy's lab at VUMC where she studies nosocomial infections that relate to antibiotic-resistant and anaerobic bacteria like C.difficile. She works for pay in a wet lab.
Anusha Srivastava – a member of the Cover Laboratory since Fall 2019, which studies Helicobacter pylori and its role as a causative agent of gastric cancer; she is specifically investigating the biofilm-forming ability of various outer membrane protein (OMP) mutants
Samantha MacGavin – a member of the Mchaourab lab since Spring 2020, obtained a research position from the SIM Research Match
Kolapo Dairo – spent the last 3 summers conducting research in a wet lab in Columbus, currently in his third semester in a psychology research lab in Peabody College
Janet Mariadoss – a member of the Conn Lab, studying how signaling of neuronal circuits is regulated and underlies neurological disorders; also conducting independent research about multidisciplinary partnerships in the Department of Communication of Science, Engineering, and Technology and ArtLab.
Mayaank Pillai – For the spring 2021 semester, I worked under Dr. Locke at the Vanderbilt Biophotonics Center to evaluate the potential value of Raman-subtracted fluorescence data in diagnosing pediatric eosinophilic esophagitis. I completed the remaining code validation for this project this summer. I concurrently worked under Dr. Bowden at the Bowden Biomedical Optics Laboratory to help develop a virtual 3D bladder reconstruction pipeline for post-cystoscopy analysis. I am continuing this project, with the additional creation of a real-time clinician guidance system, in the fall semester and beyond.
Ashika Kuchhangi – I am a member of the Child Literacy and Language Lab with Dr. Schuele.