October 6, 2022 | 8:00pm | David Williams II Student Rec and Wellness Field 1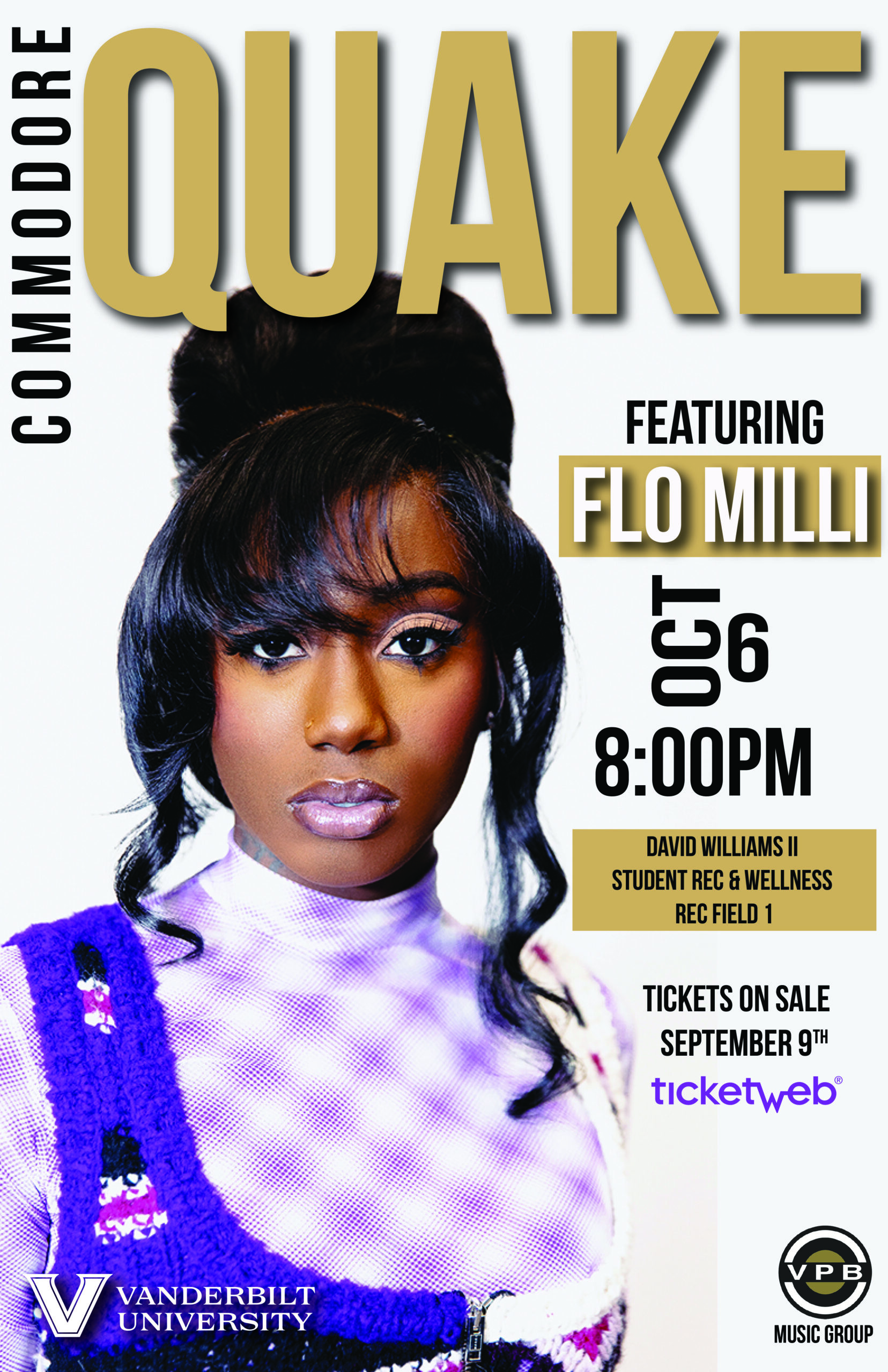 Days Until Commodore Quake
NASHVILLE, TN – The annual music event that is Commodore Quake is back again featuring one of the hottest up and coming rappers.  Students, alumni, and Nashvillians alike can get excited for musical act Flo Milli to take the stage, Thursday, October 6th  at 8:00pm. 
"We are incredibly excited to bring  Flo Milli to Vanderbilt's campus. In addition, "we are ecstatic that we will have our second  female headliner for Commodore Quake," said Music Group chair, Will Rotondo-McCord.
Flo Milli crafts flashy, irreverent bops—but that doesn't mean she's not serious about her lyrical style. Born Tamia Monique Carter in Mobile, AL, in 2000, the MC wrote her first song at 9 years old, after seeing rap icon Nicki Minaj on an episode of BET's music video countdown show 106 & Park. Flo Milli, who names the free-spirited Young Thug as another influence, officially began rapping at age 11, creating an all-girl hip-hop crew called Real & Beautiful. After disbanding the group and working to build a devoted social media following, she released the carefree "Beef FloMix" in 2018, an informal remix of Atlanta rappers Ethereal and Playboi Carti's off-kilter 2015 SoundCloud cut "Beef." "Everybody will try to act like rapping is easy—it looks easy—but it's a lot of obstacles that come with it," Flo Milli told Apple Music. "So when 'Beef' started blowing up, I kind of got a little more confident about my music, and that's when I knew I should just keep going." In 2020, she dropped her debut mixtape, the brash Ho, why is you here ?, led by the buoyant single "In The Party," an unapologetic flex about Flo Milli's ability to swipe the arm candy from anyone standing in her way. With a bubblegum trap sound, a pop star attitude, and infectious energy, Flo Milli builds intentionally upon a foundation set in place by her stylistic predecessors.
Tickets are available to the general public and will go on sale Friday, September 9, 2022 online via TicketWeb.  Tickets can also be purchased with no service fees included only at the Sarratt Box Office on the Vanderbilt campus. No refunds will be given due to cancellations. For general event information, call 615‐322‐0632. For more information, visit http://studentorgs.vanderbilt.edu/commodorequake/ or follow us on Twitter at https://twitter.com/vpbmusicgroup