GREETINGS! What you are visiting now is actually our Vanderbilt "student org" site… our "REAL" website is: www.ukirknashville.org! Be sure to visit us there for the most up to date information on what we do, how to find us, and how to support us! Or find us on your favorite social media @ukirknashville 🙂 #ukirk #ourwebsiteisveryuserfriendly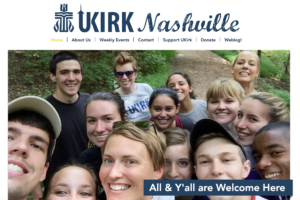 UKirk Nashville is a Christian community dedicated to experiencing Christ on campus through worship, service, and fellowship.  We gather weekly as a community of faith to worship God through the study of scripture, the asking of hard questions, singing, prayer, FOOD, serving our neighbors, and laughter. We have a long history of doing this at Vanderbilt University as the Presbyterian Student Fellowship and a bunch of other student organizations, and we have officially expanded to Belmont University, and we welcome any college aged folks or supporters of said folks in the area who wish to join us. Check out our website for ways to find us easily and get more info on Facebook , Twitter and Instagram.
Want the latest news and information from UKirk Nashville? Sign up for our enewsletter!
---