Days Until Rites of Spring 2022
Rites of Spring Important Information
Maps
Rites of Spring will be held on Alumni Lawn at Vanderbilt University on April 22nd and 23rd. Below is a layout for the Rites of Spring Music Festival.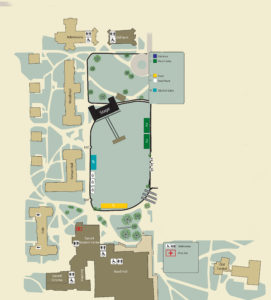 The purpose of this Inclement Weather Emergency and Evacuation Plan (Plan) is to describe the policies and procedures for dealing with inclement weather incidents that occur during Rites of Spring.  This Plan details Vanderbilt University's procedures for the following items relating to inclement weather incidents:
Monitoring local inclement weather;

Relaying pertinent weather information to key event personnel;

Making decisions for suspending/terminating event and evacuating the Alumni Lawn and any other applicable areas;

Making announcements to the guests regarding inclement weather;

Resuming normal event operations after an inclement weather incident; and

Documenting, evaluating, and reporting severe weather incidents.
*This Plan does not directly address emergency incidents other than severe weather.
The EOC will be responsible for monitoring weather conditions before, during, and immediately after the event. The Logistics Section Chief will provide a weather briefing to the Incident Commander prior to Incident Command and EOC activation. If at any time inclement weather is within a 150-mile radius of the Vanderbilt campus, the Logistics Section Chief will:
Provide weather updates to the Incident Commander every 30 minutes or sooner if needed, who will then update the Director of Arts and Campus Events.

Notify the Incident Commander when inclement weather is forecast to impact campus within 60 minutes, who will then update the Director of Arts and Campus Events.

a. The EOC will provide updates to the Incident Commander every 10 minutes, who will then update the Director of Arts and Campus Eve
Accuweather Incorporated monitors weather for the Vanderbilt University campus, and provides weather information to VUPS Headquarters along with several VUPD and Office of Emergency Preparedness staff members whenever inclement weather threatens the campus.
RELAYING WEATHER INFORMATION
All weather updates will be communicated from the EOC. As potentially-threatening weather moves towards campus, the EOC will provide frequent updates and assist in severe weather- related decisions.
Vanderbilt University utilizes sirens placed in strategic locations across the campus to alert persons that are outdoors of impending severe weather.  The sirens sound for 3 minutes when a storm producing or capable of producing a tornado is within 3 miles of or forecast to impact Vanderbilt University within 15 minutes.
If a Tornado Warning is issued for Vanderbilt University, VUPD Communications, in conjunction with staff from the Office of Emergency Preparedness will disseminate an AlertVU message.
SEVERE WEATHER DECISIONS
Inclement weather, including tornadoes within a 3-mile and lightning within an 8-mile radius of campus warrant action up to and including: evacuation of Alumni Lawn, a delay, or cancellation of the event.  However, circumstances may dictate an alternative action plan, and a real time decision will be made for each individual scenario.
If inclement weather is anticipated:
Prior to the event start, the Director of Arts and Campus Events, after consultation with the EOC, will ultimately be responsible for making decisions regarding severe weather. If severe weather is anticipated, the EOC will assist the Director of Arts and Campus Events to activate any and all components of this plan deemed necessary to protect life including the announcement of the applicable script over the public address system attached to this document.
If inclement weather occurs during the event:
During the event, the Incident Commander will work in conjunction with the Director of Arts and Campus Events to ensure the safety of everyone in attendance.  All final weather-related decisions, including those for inconvenient but not life-threatening weather (ex. – heavy rain with no lightning) shall ultimately come from the Director of Arts and Campus Events except in the instances of:
A Tornado Warning issued for Vanderbilt University and/or

Lightning detected within an 8-mile radius of campus
Shall either of the above occur, the Incident Commander will order the evacuation of Alumni Lawn set forth in this plan and consult with the EOC and Director of Arts and Campus Events to determine when/if the event will resume. VUPD Officers and CSOs will be assigned a building in which they are to report if evacuation becomes necessary. They, along with event staff will ensure a calm and orderly evacuation to applicable relocation points in Annex A, as well as ensuring that their building is unlocked.
Evacuation of General Alumni Lawn Area
If there is a potential for a severe weather Alumni Lawn evacuation, the Command Post will monitor the crowd volume in preparation of an evacuation.  The total attendance not including performers, event staff, band members and security will need to be estimated (including updates if a significant reduction occurs) for evacuation purposes.
For tornadoes and severe thunderstorms, the following evacuation points listed in order of preference will be utilized:
1.            Sarratt Student Center
2.            Neely Auditorium
For lightning storms, the following evacuation points listed in order of preference will be utilized:
1.            Sarratt Student Center
2.            Neely Auditorium
COMMUNICATION DURING EVACUATION
The Director of Arts and Campus Events shall designate one staff member/volunteer per relocation point to serve as the liaison between the area and the EOC. They will be responsible for communicating updates from the EOC to the guests, performers, and staff members in their designated relocation point including when it is safe to resume normal activities.
RESUMING NORMAL EVENT OPERATIONS
The EOC will continue to monitor weather during any suspension of the event and send updates to the Incident Commander every 5 minutes (or sooner depending on conditions). Once the threat has passed, the EOC will give the "All Clear" to the Incident Commander, who in turn, will communicate that message to the Director of Arts and Campus Events. If he/she (in conjunction with the EOC and Incident Commander) deems conditions are safe enough to resume the event, the Director of Arts and Campus Events is responsible for supplying the PA system announcer with the correct script. The designated staff members in each relocation point will be notified and
---
Parking
Free parking is available at the Terrace Place located off 21st Avenue South on Terrace Place and the 25th Ave Parking Garage which is located on the corner of Jess Neely and 25th Ave.  We strongly encourage patrons to use Lyft or Über due to heavy construction in the area.
***Note: Do not park in reserved areas or your car will be towed.
---
Alcohol and Bag Policy
Festival goers will no longer be allowed to bring their own alcoholic beverages. Instead, beer only will be available for purchase from designated vendors at the event scheduled for Friday, April 22, and Saturday, April 23, on Vanderbilt's Alumni Lawn. Security will check identification for all festival attendees prior to the purchase of beer and attendees will be limited to three beers per day.
Non-alcoholic drinks and food will also be available for purchase at the event and the university's Vanderbilt Recovery Support/Center for Student Wellbeing will be providing free bottles of water throughout the duration of the festival.
Other policies attendees should be aware of include the following:
Coolers will not be allowed to be checked in at the gates in order to reduce bottlenecks and speed entry to the event.

Backpacks (including hydration packs), large purses and bags will not be allowed on festival grounds. There will be a storage place on Vanderbilt Pl to store your items for a fee.

Small clutch bags, approximately the size of a hand either with or without a handle or strap, and fanny packs are permissible.

Exceptions may be made on a case-by-case basis for medically required items after proper inspection.
[ Back to Top ]
---
Security
There will be VUPD officers, Rites of Spring staff and security specifically designated to monitor the crowd. They will be constantly walking among the crowd throughout the event. Security will also be located at the entrances to all residence halls in the Alumni Lawn perimeter.
Security staffing will include VUPD, security and Rites of Spring staff. Throughout the lawn and the surrounding areas, security will assess intoxicated persons, under-age drinking and general event management. Should Office of the Dean of Students Staff personnel or Rites of Spring staff encounter intoxicated persons or under-age drinking, they will confront the behavior and if the intervention is unfavorable or uncomfortable for the security staff, they will call Office of the Dean of Students Staff Designee, VUPD or security.
[ Back to Top ]
---
Reducing Risk
Rites of Spring is committed to reducing the risks and negative consequences of alcohol consumption at the event. We will ensure cabs are available during the last two hours of the event for off campus guests.
Announcements about cab availability and DUI prevention will be made at appropriate times during the evenings.
All guests may bring one unopened bottled water to the event to be checked by security at the entrances. Vanderbilt Dining will facilitate the additional sale of water and soda on the lawn. No outside food is allowed into the event except small snacks for special dietary needs. This will be monitored at the entrances.
[ Back to Top ]
---
Chairs
Rites of Spring staff is committed to the safety of all participants at the event. Should participants stand on the chairs, they will be asked to sit down. If they do not comply, they will be removed from the event. Further, should it be evaluated that chairs are problematic at any time during the event, an alternative plan will be enforced and chairs are not allowed at the event.
[ Back to Top ]
---
Trash & Recycling
Please dispose trash into the proper trash cans. Recycling containers will be available for aluminum cans. Dispose aluminum cans only in the blue recycling containers.
Items Allowed into the event:
Blankets

Clutch Purses:  Each concertgoer is limited to one clear plastic bag no larger than 12 inches by 6 inches by 12 inches, or a one-gallon, clear, re-sealable plastic storage bag. Fans will also be allowed a small clutch purse not to exceed 4.5 inches by 6.5 inches. 
Items Not Allowed into the event:
No backpacks

No bags (only small clutch bags)

No Alcohol

No weapons of any kind

No fireworks

No umbrellas

No illegal substances

No glass containers

No frisbees

No video cameras

No inflatables

No beach balls

No professional photography equipment (Unless you have an artist pass)

No go pros

No laser pointers

No food or drinks – other than factory sealed water bottles and small snacks for dietary needs.

NO PETS
Please respect the rules of the venue and cooperate with the event staff so that Rites of Spring can be a great experience for all parties.
[ Back to Top ]
---
About Arts & Campus Events
The Office of the Dean of Students at Vanderbilt University provides an extensive list of activities and organizations for students to gain the true college experience. The Office of Arts & Campus Events houses several organizations and programs designed to meet the needs of every college student. Their mission is to offer a fun and celebratory environment as well as cultivating a sense of school pride that extends past the classroom.
[ Back to Top ]
---